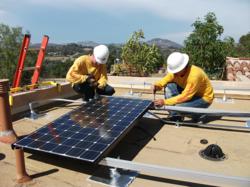 The demand for solar is so abundant in our region that our company continues to grow at an ever-increasing rate.
San Diego, CA (PRWEB) August 22, 2012
Sullivan Solar Power, the top installer in SDG&E utility territory according to California Solar Initiative data, has expanded to a new office location due to immense growth. On Friday the company opened another 7,229-square foot office in Mira Mesa adjacent to its headquarters location.
In April 2011, the solar integration firm moved to its current headquarters office with plans to stay in the roomy building for three years. Because of the company's large intake of new employees, the firm grew out of space in just 16 months.
"The demand for solar is so abundant in our region that our company continues to grow at an ever-increasing rate," said Daniel Sullivan, founder and president of Sullivan Solar Power. "We are really excited to be creating additional local jobs with our new availability of space."
Sullivan Solar Power currently employs 67 highly specialized "green collar" workers and is planning on adding eight new employees to its roster by the end of the year. In addition to being listed as one of San Diego's Fastest Growing Companies by the San Diego Business Journal for three years running, the firm was just ranked one of the top 50 companies in the energy sector by Inc. Magazine for its third consecutive year.
Sullivan says that the most notable achievement this year is being named Small Business of the Year by the local Chamber of Commerce. He modestly failed to mention being a finalist for San Diego's Entrepreneur of the Year, the most prestigious recognition for leaders in the business community.
The company attributes its successful 2012 growth to the San Diego Solar Program, an initiative the company launched in the second quarter to spur solar power development throughout the region. The countywide program, administered by Sullivan Solar Power, pays homeowners to go solar with cash-back incentives greater than the state rebate.
For more information about the San Diego Solar Program, visit http://www.sandiegosolarprogram.org or call 1-800-SULLIVAN.
About Sullivan Solar Power
Sullivan Solar Power is a turnkey solar system provider that delivers solar electric projects from concept to completion with offices in Orange, Riverside and San Diego counties. The company has installed more than 10 million watts of solar power ranging from residential to large commercial and municipal systems. Sullivan Solar Power has a longstanding A-plus rating with the Better Business Bureau, with no complaints filed since its founding in 2004. The firm has been named one of the nation's fastest growing energy companies by Inc. Magazine and services clients throughout Southern California. Regardless of project size and scope, Sullivan is committed to delivering the best products provided by the most qualified professionals to every customer. Visit http://www.sullivansolarpower.com for more information.
###