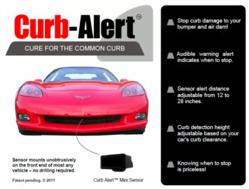 We are thrilled to be able to offer BMW owners a easy to install Curb Alert that is customized for the BMW
Marietta, GA (PRWEB) August 22, 2012
Southern Car Parts (SCP), a leading Corvette Parts provider, began selling the very popular Curb Alert parking sensor in December of 2010, and in the year since has sold hundreds of these units with incredibly positive reviews and results; however, during that time some customer feedback surfaced that indicated custom install packages would be helpful for different vehicles to ease in the installation process. In the last year SCP has developed Curb Alert installation packages for the Corvette C6, Corvette C5, 2010+ Camaro, and just recently created a BMW Curb Alert install package
The Curb Alert parking sensor is a brilliant device which uses a specially developed proprietary infrared technology to sense approaching curb hazards which could cause damage to the front end of your vehicle. The device itself is so small and versatile that it fits the very definition of universal and will work with almost any vehicle imaginable. The sensor acts to alert you within a programmable distance of 8 to 20 inches of potential damage and can ultimately protect your vehicle from thousands of dollars worth of curb damage. At 159.99 for the entire kit, the protection the Curb Alert offers is well worth the money. The installation is not decidedly difficult, typical installation can be usually done in an hour or two.
Entirely unique to Southern Car Parts, the BMW Curb Alert installation package takes advantage of the design and construction of the BMW to allow for a near invisible installation of the Curb Alert in a short time frame. The installation itself also utilized pre-existing fuse slots and a unique wire routing method to remove the installation's most difficult steps and to make calibration incredibly easy. This is important not just for the difficulty of installation that some people originally reported but also because of the necessity for such a product on a vehicle that is as prestigious and pricey as the BMW. The BMW sits fairly low to the ground and with a front spoiler or aftermarket front end the financial pain can be severe if a driver rubs a curb which could result in multiple thousands of dollars worth of body and paint damage.
This new package from Southern Car Parts helps protect BMW drivers from unsightly curb damage and SCP is the only company offering this custom BMW install package.
For more than six years SCP has been developing a strong reputation and following in the performance automotive market and has expanded from simply dealing with Corvettes to incorporate the Chevrolet Camaro, Dodge Challenger, Ford Mustang, Nissan 350Z and 370Z, and Nissan GT-R as well. In that time they've reached a wide and loyal consumer base who returns to them for they're shopping needs as result of SCP's dedication to top-notch and expedient customer service and highly discounted pricing structure. The introduction of this new Curb Alert BMW package is certain to help SCP continue their growing positive reputation, as well as the reputation of the Curb Alert product itself.