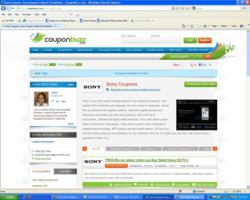 This special offer from Sony is coupon is causing quite the back-to-school buzz on campuses across the nation.
Houston, TX (PRWEB) August 22, 2012
A new exclusive Sony coupon offer that is taking college campuses by storm was selected today to headline CouponBuzz.com's dedicated webpage for Sony coupon codes and special offers. This particular special offer by Sony offers consumers one of three impressive bonuses with their purchase of a Sony VAIO computer. In addition to owning a remarkable high-performance computer, online shoppers who qualify for this Sony coupon can also choose a new PlayStation or $200 towards accessories and games. Not a gamer? Doors number three and four offer up to 10% off the list price of the computer, or up to $500 off select performance upgrades.
"One of the reason this Sony coupon is so exciting is that there is something for everyone," explained Justin Bowen, CEO of CouponBuzz.com. "Even if you're not the type to be interested in scoring a new PlayStation or super-charging your computer with the latest upgrades, you can't say that 10% off the retail price doesn't look good to you. This special offer from Sony is coupon is causing quite the back-to-school buzz on campuses across the nation."
A lot of online retailers offer special back-to-school sales, bonuses and special offers. But this Sony coupon is poised to beat out the competition, in large part because of the built-in flexibility that allows individual shoppers to tailor the coupon to fit their specific desires. Interested consumers can read here to get the full information on this Sony coupon, but it should be noted that only college students and faculty members are eligible for the special offers. Both the 160GB PlayStation and a PlayStation Vita are included as free options in the deal, or the $200 dollars for accessories and games could be applied toward a different model of PlayStation. Performance upgrades could include CPU, RAM, software, optical drives and more.
The offer is valid for almost every Sony VAIO laptop and desktop, so even the pickiest consumer is sure to find a computer perfectly suited to their needs. To access this Sony coupon visit the dedicated Sony web page at CouponBuzz.com, located here http://couponbuzz.com/sony-coupons.html.