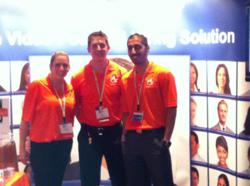 People will walk away amazed at how our integration of video can significantly reduce the time, cost, and effort typically associated with traditional hiring methods. - Josh Tolan, CEO of Spark Hire
Chicago, IL (PRWEB) August 22, 2012
Spark Hire (http://www.SparkHire.com), the leading video powered hiring solution, will be exhibiting at the 2012 HR Florida Conference & Expo held at Rosen Shingle Creek in Orlando, FL on August 27th and 28th.
"We can't wait to showcase Spark Hire's video interviewing capabilities to the HR Florida attendees," said Josh Tolan, CEO of Spark Hire. "People will walk away amazed at how our integration of video can significantly reduce the time, cost, and effort typically associated with traditional hiring methods."
Spark Hire will be located at Booth #627 and will feature video demonstrations including:
Spotlight Interviews: Employers can send a series of questions to candidates who respond with video answers. These asynchronous video interviews can be watched by the employer at their convenience.
Live Interviews: Employers can connect face-to-face with job seekers using their webcam. These live video interviews are even recorded and available for playback.
Spark Hire will also be raffling away gifts such as t-shirts, coffee mugs, and even free iPads! Be sure to stop by Booth #627 to watch one of the video interviewing demonstrations for your chance to win one of these great prizes!
About Spark Hire:
Spark Hire is a video powered hiring network that connects job seekers and employers through video resumes and online interviews. By integrating video screening and video interviewing into the hiring process, Spark Hire bridges the gap from the initial application to the final hiring decision by providing job seekers with a better way to stand out and employers with a more efficient way to identify top candidates. For more information, please visit SparkHire.com.
About HR Florida:
The HR Florida Conference & Expo is the annual conference of the HR Florida State Council, a state affiliate of the Society for Human Resource Management (SHRM). Each year the event attracts 1,500+ human resource professionals and vendors throughout the state of Florida and across the nation. These individuals represent virtually every industry and companies ranging from small businesses to large industrial centers. For more information, please visit hrflorida.org.