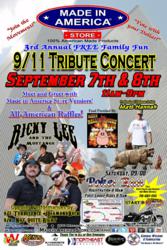 The consumer has a lot of power, vote with your dollar."
Elma, New York (PRWEB) August 22, 2012
September 7th and 8th, the Made In America Store will be hosting a 9/11 tribute event, bringing live performances, numerous vendor stands and even food merchandisers. 2012 will kick off their third annual September 11th tribute event and this year will be the first year of having a two day event.
Mark Andol, owner and creator of the Made In America Store likes to honor those who served the United States over the years by hosting free events at their Elma, New York location. Most events present live performances from local musicians and the Made In America Store's own Nashville Recording Artist, Ricky Lee.
This years 2012 even will host four different bands, two on Friday night and the other two on Saturday. Friday nights performances include Turbulence and Diamondback where Saturday will host Not Quite Right and Ricky Lee & The Mustangs.
Adding to the list of things to do, the Made In America Store will have Meet and Greets with some of the vendors at the Made In America Store and an All American Raffle!
As always, Military Veteran Matt Hannah from 'Insane Chain' will be doing live chainsaw demos. Food will be provided by Dale's Rollin' Smoke BBQ.
Saturday will also kick off the Motorcycle Poker Run, where bikers can register at Ken's Service & Sales. The Bike Run will go through Elma, Wales, Strykersville, Arcade and then hit the Made In America Store to enjoy the event and eventually ending at the American Grille.
"The consumer has a lot of power," Says store owner, Mark Andol, "Vote with your dollar."
Made In America Store is located at 900 Maple Road in Elma, New York and is committed to selling 100% American manufactured products. You can visit http://www.MadeInAmericaStore.com for more information or shop our catalog of over 3,500 products from over 290 vendors that are devoted to producing USA made products. All US military personnel, both active duty and veterans, receive a discount every day. Consumers can also keep up to date news articles, events, photos and contests with Facebook, Twitter, Google+, Pinterest and Tumblr!