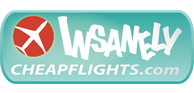 (PRWEB) August 23, 2012
InsanelyCheapFlights.com has announced its end of summer sale on flights to Nashville, Tennessee, which gives users of the site the opportunity to save on travel to one of the most culturally rich cities in the country.
A real paradise for tourists, Nashville is the capital of the Tennessee and is known as 'The Music City,' thanks to its deep connection with the music industry. While there are plenty of attractions to Nashville, it's the music scene which still serves as the biggest draw for tourists. Many still come to take in the live performances of the Grand Ole Opry, which is the world's longest running live radio show. The CMA Music Festival and the Tennessee State Fair are other popular options for visitors and no matter what time of year, there's always something to entertain the musically minded.
Besides music, there's a wide range of events and activities to keep people of all ages satisfied. A favorite with young and old alike is a cruise on the historic General Jackson Showboat. Climb aboard the paddlewheel riverboat and take a relaxing trip down the Cumberland River, continuing a tradition which began in Nashville in 1817.
For those looking for culture, a trip to the Parthenon confirms Nashville's place as the 'Athens of the South'. The replica of the Greek landmark not only houses many classical works and sculptures but also plays host to more contemporary work from the likes of Andy Warhol.
For visitors who enjoy their fine whiskey, the famous Jack Daniel's Distillery in Lynchburg is only an hour away and is one of the most popular destinations in Tennessee.
When it comes to nightlife, Nashville has it all, and whether visitors choose to hang out with the trendy college crowd in Hillsbro Village or explore the bars and restaurants of the more tourist-favoured 'Lower Broad', a night out in Nashville is a never to be forgotten experience.
Nashville and Tennessee residents can also take advantage of the InsanelyCheapFlights.com sale as the discounts on airline tickets apply both ways. Escape the sizzling summer temperatures to the relative cool of New York or snap up a bargain flight to Colorado for some skiing. The discount applies to service fees and flight bookings only, and is good on travel to most destinations.