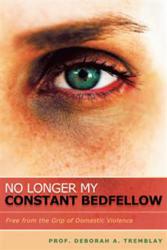 My book will minister to victims as well as be a welcomed resource for those who care for others who have been victimized – all readers will gain greater insights into the issue of domestic violence
Watervliet, N.Y. (PRWEB) August 23, 2012
In her new inspirational memoir "No Longer My Constant Bedfellow: Free from the Grip of Domestic Violence" (published by CrossBooks), Prof. Deborah A. Tremblay shares her story as an abuse victim and survivor.
"No Longer My Constant Bedfellow" is the story of how Tremblay was able to free herself from the violent clutches of domestic violence. She takes readers through two separate stories of finding freedom. In the first, she was physically freed from her abusive husband when she escaped from his reach one night. The second freeing experience would happen 21 years after her first husband's death, when she was able to let go of the emotional and psychological grip that had hindered her for so long.
An excerpt from "No Longer My Constant Bedfellow":
"Time seemed to slow down as he grabbed me, and sent me reeling into the wall. I found myself on the bed, dazed and in a chokehold, being strangled and fighting for my life. As the pillow came down over my face, I was certain I had breathed my last. That would be the day I was attacked, strangled, and suffocated in the bedroom – and the night a ticking time-bomb was planted within my brain – but wouldn't explode for another twenty-four years."
Tremblay hopes her book offers the many victims of abuse in the world find the strength to escape its grips. Tremblay says, "My book will minister to victims as well as be a welcomed resource for those who care for others who have been victimized – all readers will gain greater insights into the issue of domestic violence."
About the Author
Prof. Deborah A. Tremblay is a domestic abuse survivor residing in Watervliet, N.Y. with her second husband and five sons. Her objective is to advocate for victims, particularly victims of domestic violence. She has studied and worked with Dr. Lenore Walker, author of "The Battered Woman" and world-renowned domestic violence theorist.
CrossBooks, a division of LifeWay Christian Resources of the Southern Baptist Convention, is a Christian publishing imprint committed to bringing more Christian voices into the publishing industry. Established authors, first-time authors, and authors anywhere in between can meet their goals and fulfill their vision for their books by publishing with CrossBooks. CrossBooks' innovative style of publishing blends the best of traditional and self-publishing. While our authors contribute monetarily to cover the cost of publishing, we maintain a strict moral and quality standard that every manuscript must meet for us to publish. For more information on publishing your Christian book with CrossBooks, log on to crossbooks.com or call 1-866-879-0502.
###