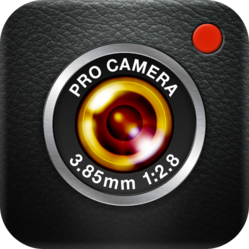 Mannheim, Germany (PRWEB) August 23, 2012
Cocologics, the ProCamera team, is pleased to release ProCamera HD for iPad. It lets users get the most out of their iPad camera for both photos and videos! To celebrate the launch the price of ProCamera HD is dropped from $4.99 to $2.99.
ProCamera (for iPhone) is the most professional full-featured camera app available. It has gotten numerous awards and is loved by over a million users. ProCamera HD (for iPad) inherited the full suite of ProCamera's professional capabilities and ease of use and even added several new and unique features to take full advantage of iPad.
"iPad 3 has a dilemma," Jens Daemgen, CEO of Cocologics said. "Despite the big jump in the camera hardware quality compared to iPad 2, it is still inferior to the camera of the iPhone 4S. But most importantly, the size of the iPad creates the need for an optimized user experience and user interface. That's where we came in." ProCamera HD's new Expert Mode (patent pending) allows users to have a complete control over exposure, focus, and white balance. Of course it comes equipped with ProCamera's Anti-shake image stabilization for sharper photos, as well as a Self-timer with the special SnapTrigger functionality. So users can take much better photos and videos, and then take advantage of iPad 3' high-definition retina display.
Really unique is the SnapTrigger (patent pending) that is perfectly adapted to the iPad: Users decide where the control bar is located on the screen; this allows users to take photos and videos in their own way with a customized user interface. The new internal library 'Lightbox' allows users to save photos and videos a lot faster. 'Lightbox' also makes it easy to delete, share, and export multiple photos and videos.
Main Features (camera & video):

SnapTrigger (patent pending): Movable control bar to fit everyone's style
Lightbox: Internal library, allows easy deleting, sharing, and exporting of multiple photos and videos
VideoSnapshots: Take photos WHILE recording a video or in video mode
Expert Mode 2.0 (patent pending): Enables precise control of exposure, focus and white balance. The new expert mode also enables locking and unlocking focus and/or exposure manually and independently.
Videozoom: Video recording with high-quality 6x zoom

Full control over focus adjustment while recording video (either manually in expert mode or automatically with continuous focus mode ON or OFF).
RapidFire mode and Sport mode: Both combined enables ultra-fast continuous burst shots
Anti-shake image stabilizer
Advanced geotagging (full EXIF data with compass direction)
Self-timer and smart trigger (details on our website)
Other highlights: QuickFlick Album, Datestamp, virtual horizon, alignment grids, maps view, detailed EXIF data display and many others
Support for Social Networks:
Sharing has never been easier. Upload your photos to Facebook, Twitter, flickr, and DropBox - individually or in bulk! Email sharing with multiple photos is also possible. New and unique in ProCamera HD is video sharing to DropBox -- in full resolution.
There are more features coming soon.
The iPad is an essential travel companion, with its media-rich functionality. Now with ProCamera HD, iPad will become a primary camera for photos and videos, and social media sharing. ProCamera HD, together with ProCamera, will cover all your iDevice photography needs.
Compatibility: iPad 2 and iPad 3. Control over focus requires an iPad 3. (The iPad 2 has a fixed-focus camera.)
For more information and media requests, please contact:
Jens Daemgen
1.415.704.0207
ll(at)daemgen(dot)net
Pricing and Availability: ProCamera HD is having a special launch price of $2.99 USD reduced from its regular price of $4.99 (or equivalent amount in other currencies) and available worldwide exclusively through the App Store in the Photo & Video category.
Web: http://www.ProCamera-App.com
iTunes store: http://itunes.apple.com/us/app/procamera-hd/id549558641?mt=8
Blog: http://blog.procamera-app.com/
Facebook: http://www.facebook.com/ProCameraApp
Twitter: http://twitter.com/ProCamera
Flickr: http://www.flickr.com/groups/procamera-app/