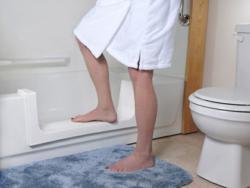 "Safeway Step is a cost-effective solution that can be installed quickly with minimal inconvenience to the residents. The Safety Step has been very well received, in fact, as one housing manager indicated, 'Our residents love them… really love them!'"
Cincinnati and Marion, OH (PRWEB) August 22, 2012
Safeway Safety Step today announced that United Church Homes, one of the largest providers of senior living with 4,000 residents in 67 communities in 13 states, has started to market and install Safeway Step tub-to-shower conversion solution in homes across its communities. To date, more than 200 Safety Steps® have been installed, helping residents remain in their homes and bathe independently and safely. The patented Safeway Step® converts an existing tub into a permanent walk-in shower, providing seniors with easier and safer access to their showers.
"The bathtub and stairs are among the two biggest problems that cause seniors to leave their homes," said Cheryl Wickersham, vice president of housing services with United Church Homes. "For our communities with bathtubs, we wanted a solution that would help remove the tub barrier and allow our residents to feel comfortable and safe about bathing. Safeway Step is a cost-effective solution that can be installed quickly with minimal inconvenience to the residents. The Safety Step has been very well received, in fact, as one housing manager indicated, 'Our residents love them… really love them!'"
The Safeway Step® can be installed by one of Safeway's national installation partners or the company will train members of a facility's' maintenance team how to install the kits. Installation includes cutting a section of the existing tub and custom fitting the resulting opening with a Safeway Step®, creating a pass-through of 24-inches wide by eight-inches deep. It can be installed in most types of bathtubs, including fiberglass, steel and cast iron in only a few hours. The Safeway Step® and the Safeway Tub Door®, which adds a water‐tight sealable door to an existing bathtub for easier access, have been installed in thousands of homes, assisted living facilities, senior living residences, hospitality properties, and as part of local, state and federal social programs.
Below are comments from United Church Homes' housing managers about the Safeway Safety Step:

Caran Brown, Ashbury Court, Tupelo, Miss.: "The reaction to the Safety Step has been very good. Two residents have been able to remain in their homes at Ashbury Court and two others have been able to continue to bathe independently because of the Safety Step."
Marsha Landers, Magnolia Grove, Jackson, Ga.: "The residents who have the Safeway Steps range from 'very happy' to 'thrilled.' They say it is such a joy to be able to feel as if they have really bathed instead of just 'bathing off' or bathing out of the sink. Many of the residents could not possibly step over the tub side for fear of falling. Others had to wait on family members or aides to help them get in and out of the tub. The Safeway Step has made it possible for them to feel and be more independent."
Patty Owens, Cedar Heights, Cedartown, Ga.: "The residents that requested the Safety Step loved it the first time they used it. Maintenance said they were really easy to do and the installation kit comes with everything you need. If we have a question, the people at Safeway are right there to answer them."
"The Safeway Step was created to help seniors and those with disabilities to age-in-place, maintain their independence and feel comfortable and safe about doing something they have done their entire lives," said Chris Stafford, president of Safeway Safety Step. "The response from United Church Homes' residents has been incredible, and we appreciate their trust in our solution."
About Safeway Safety Step, LLC
Based in Cincinnati, Ohio, Safeway Safety Step, LLC is the manufacturer and distributor of the Safeway line of bathtub accessibility products. The company's products include the patented Safeway Step® and the Safeway Tub Door®, which provide seniors, people with disabilities and mobility challenged individuals with affordable and safe solutions to improve bathtub accessibility and reduce the possibility of falls. Safeway Safety Step is supported by a growing network of professional installers who can transform an existing tub in as little as two hours. For additional information, please contact Safeway Safety Step, LLC at (877) 882‐7837 or visit http://www.safewaystep.com.
About United Church Homes
United Church Homes is one of the largest providers of senior living, serving more than 4,000 residents in 67 communities. We value residents spiritually, physically and emotionally, and we respect their engagement in the life of our communities, including decisions about their care. This is our passion. This is our calling. Since 1916, when Matthew and Jane Smith bequeathed 168 acres of farmland in Holland, Ohio, to the Toledo Classis of the Reformed Church to create places of "fair haven" for seniors, United Church Homes has been an innovator in person-centered care. As a faith-based outreach of the United Church of Christ, our heritage is one of inclusion, innovation, and continued spiritual growth. For more information, contact United Church Homes at 800-837-2211 or visit http://www.unitedchurchhomes.org.
###