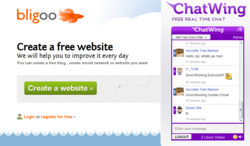 Boston, MA (PRWEB) August 22, 2012
Bligoo website creators can now increase their websites' visibility and boost traffic for their websites, as well, with the aid of the free chat widget from Chatwing. Integrating a chatbox into a website enhances the capabilities of the website administrators to be more responsive to their visitors' needs. The chat box serves as a venue for web surfers who are visiting Bligoo websites to convey their thoughts or opinions on the information delivered in the websites. These website visitors expect an immediate response on the issues they raise from the website administrators. Web admins, on the other hand, needs to be prompt in addressing their website visitors' concerns. The Chatwing free shout box has proven to be efficient in assessing website creators and website visitors with their needs.
Bligoo is introduced as a place for conversation in which effective dialogue between communities are being generated. Bligoo's mission is intensified with the free live chat that Chatwing has launched. Its free chat widget gives the Bligoo community a chance to share and exchange ideas with each other creating the possibility for a more established online community. Chatwing's chatbox also facilitate in bridging the gaps between web surfers by providing an open place for steering clear of miscommunications in real-time.
Chatwing's social media integration feature can serve as a powerful tool for Bligoo website creators to widen their reach. When using Chatwing's chat widget, website visitors have the option to log in as guests or they can log in with their Facebook or Twitter accounts. We are all aware of the huge number of Facebook and Twitter users from all over the world. With this, website administrators can reliably have a continuous increase of website presence over the internet.
Compared to other live chat applications, the process of installing Chatwing's chat software is proven to be a lot easier and faster. Unlike other live chat applications in which the installation process is tedious, requiring so many complicated steps and would require subscription or downloading fees, the Chatwing chat widget does not require subscription fees and it could be installed in just a few seconds, hence, empowering website administration with ease and economy in such a short time. As a helpful strategy for website theme synchronization Chatwing's chat software also allows a user to customize the size, color, and title of the widget to fit the website's design.
About Chatwing.com
Chatwing.com specializes in the new field of website and blog chat. Over years, the Chatwing team has introduced free live chat for hundreds and thousands of blogs. Its versatility and high rate of connectivity has engrossed online communities to utilize Chatwing's chat software. The Chatwing application bridges people of different race and culture, from many parts of the world, promoting global collaboration and camaraderie through the Internet. Chatwing is 100% free for everyone.