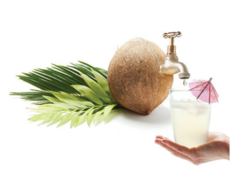 For a fraction of the cost, eating a banana will give you the same amount of potassium as many of the coconut water drinks on the market
Sydney, Australia (PRWEB) August 26, 2012
Coconut water is the clear liquid inside coconuts marketed as a natural sports drink due to its high potassium and mineral contents.
CHOICE says people who are buying coconut water because of advertised health benefits are wasting their money.
In a review of the coconut water market, dieticians¹ have told CHOICE that there is little evidence to support marketing claims that coconut water can assist with rapid hydration, weight loss, improve skin tone and help with digestion.
"Gyms and yoga centres are selling coconut water as an alternative to sports drinks. While coconut water does contain electrolytes and a small amount of carbohydrates, it's not specifically formulated in the same way a sports drink is for athletes² and so it not the best way to recover lost fluids after intense exercise," says CHOICE spokesperson Ingrid Just.
Coconut water is also often marketed as being a good source of calcium, magnesium and potassium but in reality it only contains small amounts of these nutrients.
"For a fraction of the cost, eating a banana will give you the same amount of potassium as many of the coconut water drinks on the market," says Ms Just.
In Australia there are more than 15 brands of coconut water on the market, manufactured mainly by Coca-Cola Amatil and PepsiCo. They can range in price from three to four dollars for a 350ml bottle.
Whilst the value of the industry in Australia has not yet been calculated, in the US the estimated sales value of coconut water for 2012 is $350 million with the value predicted to double in 2013.³
"The marketing and celebrity endorsements around coconut water appeal to people who aspire to being healthy – even though drinking it is really more about tapping into a healthy image rather than a healthy lifestyle," says Ms Just.
"If you like the taste of coconut water and you're happy to pay for it, you're not doing yourself any harm. But if you're drinking it for health benefits, you'll save money and be better off drinking plain water and eating a good range of fruit and vegetables," says Ms Just.
To read CHOICE's report on coconut water, visit http://www.choice.com.au/coconutwater
For a copy of CHOICE's report on coconut water, contact Ingrid Just – details below.
Media contact: Ingrid Just, CHOICE, Head of Media and Spokesperson: 0430 172 669
¹ CHOICE used evidence provided by dieticians Melanie McGrice and Tania Ferraretto as well as Dr Joanna Henryks, expert in healthy food marketing and consumer behaviour (University of Canberra).
² http://www.jissn.com/content/9/1/1/abstract
³ http://www.cnbc.com/id/47072121
To read more on CHOICE reviews, tests, and campaigns, go to choice.com.au