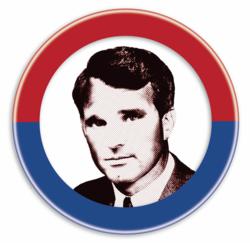 New City Stage Company is thrilled taht we are achieving our mission of creating a dialogue about politics in theatre despite the fact that those behind the new Republic Theatre Festival despise our political views.
Philadelphia, PA (PRWEB) August 22, 2012
When New City Stage Company produced the Philadelphia premiere of Christopher Durang's absurdist liberal farce "Why Torture is Wrong, and the People Who Love Them" in December 2011, they had no idea what kind of controversy it would create. The play is about a young woman who gets drunk and marries a strange ethnic man who she is convinced is a terrorist when she sobers up. She brings him home to meet her parents and her Republican gun-toting father tries to catch him int he act of staging the next Al-Quaada attack. Of course everyone's mistaken and it turns out okay in the end but the play is a theatre of the absurd reaction to 9/11.
Well, one theatre-goer was not pleased and has since created an entire festival in response to New City's acclaimed work, which received rave reviews in the City Paper and Stage Magazine. Cara Blouin, a self-proclaimed director and playwright who works as a school teacher during the day, was overwhelmed by "the assumption that everyone in the audience was sympathetic to liberal views" when she saw the show, according to Philadelphia Magazine, who started covering the story when false and obvious jealous comments about the quality of New City Stage's work was attacked on line. Blouin formed the upcoming Republican Theatre Festival in response to the show because "theater as it stands right now is already kind of the Left Festival." Although Artistic Director Ginger Dayle respectfully disagrees with Blouin's broad assessment about theatre and her claim that New City's production was "ostensibly about terrorism," New City has been repeatedly attacked by conservative theatre goers in Phialdelphia and several of Blouin's friends for New City's past and upcoming politically charged productions.
The announcement of the Republican Theatre Festival came a few days after New City Stage Company's initial announcement about their 2012-13 season came out on PRweb.com. They announced they would be opening the season with the Philadelphia premier of "RFK" by Jack Holmes, a historically accurate solo performance which biographies the last 4 years of politician Robert F. Kennedy's life. The marketing materials also highlight the similarities to the Kennedy and Obama administrations and will be offering several talkbacks to discuss the potential problems with he new voter ID laws. New City will also be presenting another Christopher Durang socio-political farce and Philadelphia premier, a holiday musical entitled "Mrs. Bob Crachit's Wild Christmas Binge."
Not long after New City's season announcement Ms. Blouin posted her declaration of the festival on the Theatre Alliance of Greater Philadelphia's listserv, as well as her supporters stating their disgust with New City Stage and Ms. Dayle as an artist and arts administrator on several blogs and Facebook. Her supporters called New City Stage "obnoxious", "low class" and "crude," claiming they couldn't hold a candle to Forearmed Productions, Ms. Blouin's amateur theatre group. One particularly aggressive supporter wrote obnoxious comments on Stage Magazine's site, which gave New City's production a great review last year, that Ms. Dayle should "stop acting and artistic directing and shut up so... [and] just do her job." They also threatened to have New City's funding and union contract taken away for having a "ridiculously liberal" artistic director. StageMagazine.com subsequently removed the posts because they contained language that cold be classified as "terroristic threats" to Ms. Dayle.
Ms. Dayle also received multiple hateful emails and messages through Facebook (both her personal account and New City's fan page), and she smiles when asked about it. "If New City's work inspired someone to create a whole festival, no matter if the founders have liberal or conservative views, that's great. Then I know we're serving our mission, which it to create a dialogue about the issues in our productions within the community." And about the threats? "It's not nice to hear but I don't feel seriously threatened by them. It's someone's dysfunctional way of dealing with other opinions out there that they don't agree with." She further gives evidence that New City is fully fledged 501(3)c not-for-profit theatre company with a healthy budget and government support. "We have an ongoing contract with Actors' Equity Association and I never even heard of this Cara Blouin person before the announcement of this festival. We have an established audience and I really don't think their festival is going to drive people away from seeing our shows, although I wish them the best of luck with producing it." She adds with a carefree laugh, "New City has over 750 likes on our Facebook page and the Republican Theatre Festival page has about 20 so the person who threatened to have us removed from Facebook for lack of significance is as ridiculous as Sarah Palin implying she was keeping us safe from Russia while governor of Alaska." Ms. Dayle was sporting an Obama Change t-shirt while being interviewed recently.
The Philadelphia premier of "RFK" by Jack Holmes presented by New City Stage Company runs at the Adrienne Theatre October 3 -21, 2012. The show is being directed by Ginger Dayle and stars actor Russ Widdall from HBO's "the Wire."
New City's production of Christopher Durang's holiday musical parody "Mrs. Bob Crachit's Wild Christmas Binge" will also be seen at the Adrienne Theatre November 29 through December 23, 2012. Another Philadelphia premiere that features live music and plenty of political fodder.
The Republican Theatre Festival presented by Forearmed Productions runs November 12 - 14, 2012 at Plays and Players Theatre.