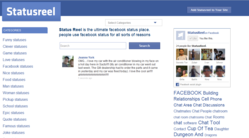 Boston, MA (PRWEB) August 22, 2012
Facebook has millions of users from all over the world. Imagine having an access to every Facebook user's status update at this very moment – Statusreel offers this unique feature of Facebook status streaming. Watching those live statuses provides a great deal of information that is significant to just anyone – from simple Facebook users, to bloggers, to Facebook entrepreneurs, and so on.
For common Facebook users who likes sharing their thoughts and reading what other people think about, Statusreel gives the possibility for users to look into a specific category of statuses that they are interested in, such as funny status, love status, nice status, quote status, and other popular categories. With looking into these statuses for facebook being categorized, getting to know people of the same interests is narrowed down which enables Facebook users to widen their social networks because with Statusreel, they can view the profiles of those who post statuses which interest them and from this, they can like, add comments, and eventually add them as friends. Users can also post funny Face book status they find in Statusreel on their own Facebook walls or any other status they find worth sharing.
Statusreel also provides great ideas for bloggers who value what most web surfers are currently interested in. With vast inflow of information from status on Facebook, bloggers could generate new ideas to write about. Statusreel also enables bloggers to broaden their reach by getting international audience's interests since it gives them the ability to search for trending topics being shared and discussed by Facebook users worldwide.
Marketing in Facebook nowadays has proven effective for online entrepreneurs. Statusreel serves as an efficient tool for online marketers. With its search tool, entrepreneurs can have the ability to search on Facebook statuses by typing in any keyword of choice and investigate who are using their products. In that way they can continuously provide customer support to their customers. They can also observe who are interested in their products, thereby giving the entrepreneurs the chance to boost the people's interest and ultimately have them as their clients.
To view the live Facebook status stream, anyone can just go into the Statusreel website and choose the category of interest or type in a specific word in Statusreel's search bar to be filtered from the online stream. For easier access, Statusreel can also be embedded into a blog or website with a very simple installation procedure. The widget can also be customized to fit a website's theme.
About Statusreel
Statusreel.com is a product designed to give end-users an instant amount of Facebook statuses in real-time. Users can search via keyword or by subject matter to see what chatter is taking place publicly on Facebook and the web. Statusreel also allows websites and blogs to embed a Facebook status widget directly into their site. Statusreel is a web-based Facebook tool that is 100% free.