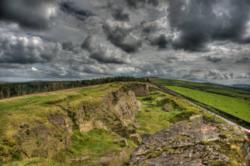 There are so many opportunities to try out extreme sports in the Peak District
Peak District, UK (PRWEB UK) 23 August 2012
"If you're one of those people who have a high level of adrenaline and fancy a little bit of danger in your life then the brand-new page we have just launched could be just what you're looking for," explains Steve Wake, one of the directors for Peak District Online. "We have all had great fun trying out new sports in researching this new section, and although we haven't all personally tried out the huge list available in this wonderful part of the country, the team certainly challenged themselves to an adrenaline fuelled few days sampling some."
The family run company at Peak District Online have made it their mission in life to be the best website dedicated to all that is Peak District. With unique visitor numbers reaching dizzying new heights, the team thought it only fitting they provided a page for those holidaymakers who need a bit of physical exertion to wind down from the daily grind.
"There are so many opportunities to try out extreme sports in the Peak District," explains James Dobson, fellow director."With lots of naturally occurring rivers, and spectacular rock faces with our infamous grit stone unique to the area, it's no wonder climbers from all over the world flock to the area to challenge themselves and conquer our mini mountains."
James explains that for the water lover, Peak District canoeing and white water rafting is available but if the visitors to the area would like to soar through the skies, with or without a motor, then Peak District gliding, hand gliding or ballooning could be something to consider.
"If danger on four wheels is your thing, then have a look through our sections on Peak District scrambling, road cycling or maybe even off-roading in a 4x4 is your cup of tea?" says Steve. "There really are so many Peak District extreme sports to suit any levels of adventure, and we have a huge collection of free sports, action sports and adventure sports to test you to the limit."
According to the experts who it's safe to say, know a fair bit about Derbyshire having built up the small family run business into an extreme website of their own, the Peak District Online team experience first-hand the huge range of extreme sports available.
"Why not try out something new this year and add a little bit of spice to your life?" Challenge James. "It's not just for the holidaymakers either. There's nothing nicer than enjoying weekends off in the Derbyshire Dales, after a hard week of work in the city and letting your hair down by pushing yourself and raising the blood pressure a little we think."
With holidaymakers flocking to the Peak District and with a couple of weeks of the summer holidays still left, http://www.peakdistrictonline.co.uk is a website to provide lots of information to help parents with children as well as those adults who feel like behaving like children for a while.
"It's not simply an accommodation directory that we offer, although we are extremely proud of our wonderful directory," explains James." We try to go above and beyond this, making our website a huge directory of interesting places to visit and featuring all the latest attractions and information to add adventure to any holiday."
The website provides a newsletter service and would invite any readers new to the area, to sign up free of charge and learning the news, gossip and latest pages as they happen. Visit the new extreme sports in the Peak District page at http://www.peakdistrictonline.co.uk and tease those testosterone levels.