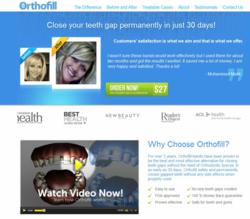 Ottawa, ON (PRWEB) August 22, 2012
Orthofill, the leading producer of non-invasive orthodontic teeth bands, announces its recent launching of a new homepage redesign loaded with additional elements significant to create easy access to information and navigational functions set to put visitors and clients at ease. Check new redesign at http://www.orthofill.com/.
With the redesign, Orthofill aims to provide the best web atmosphere that includes:

Cool and appealing colors
Clear and precise headlines
Video embed showing how ortho bands are able to effectively close gaps in between teeth
Brief and comprehensive steps on how to use the dental bands
Dedicated customer chat support
Real and verified testimonials from Orthofill dental band clients/users
Homepage redesign is not solely for the purpose of aesthetics but also for its usability whether users or website visitors are able to find what they are looking for without the difficulty of too many clicks. Orthofill only wants the clients to experience convenience while browsing or making a purchase.
Treating diastema has never been this easy with Orthofill bands. Diastema or commonly called as teeth gap, is one of the major problems people from all ages suffer when it comes to their teeth. Ever since Orthofill revolutionizes treatment of gaps on teeth, many who have heard of its wonders wants to opt in and purchase oral bands for aesthetic purposes among others.
Orthofill bands are safe and secure to ensure a gapless smile. Offered with a 110% Money Back Guarantee stated on its return policy, it's a very advantageous deal for an affordable price of $27 for 100 dental bands. Delivery is 14 business days or less. If ortho bands do not work for some clients, Orthofill encourages them to send it back and they will immediately get a refund within 8 weeks after the order.
Orthofill orthodontic bands are a less intrusive alternative for closing the space between the teeth. It has been developed to provide quick and permanent solution to teeth gaps that clients around the world are all too happy to discover.
For more information on how Orthofill can treat diastema in less than two months, visit http://www.orthofill.com.
About
Orthofill is a company owned by Clicking Labs, Inc. that started in May 2010.With dedication and perseverance; they were able to bring together a team of multi-talented individuals to provide the world with creative and interesting marketing strategies to drive success to its clients. It has stations in Ontario, Canada and Cebu, Philippines.
###