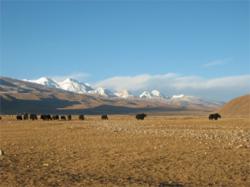 Lhasa, Tibet (PRWEB) August 24, 2012
Songtsan Travel, a Lhasa-based travel agency, now offers a trek through Tibet's nomadic grasslands. This multi-day trek with camping is ideal for travelers who want to learn more about the lifestyle of Tibetan nomads, or drokpa.
"The Tsurphu to Yangpachen trek is an excellent choice for those who want to get a close look at the Tibetan herders (drokpa) and their semi-nomadic lifestyle," Songtsan Travel said. "Although they have permanent winter homes they spend much of the year camping with their animals."
The trek begins at Tsurphu Monastery, located about 35 kilometers from Lhasa. The trail climbs into the windy Yangpachen Valley, a broad grassland where nomads roam with their flocks of sheep and yak. The trail passes by several nunneries and other cultural destinations. The maximum elevation of the trip is 5,400 meters at the Lasar-la pass, and most of the 60 kilometer trail is at an elevation over 4,400 meters, making this a challenging trek.
The entire journey lasts about nine days, including several days for sightseeing and acclimatization in Lhasa. Cultural highlights of Lhasa include the world-famous Potala Palace, Jokhang Temple and the Barkhor pilgrimage circuit and market.
After finding a porter with a yak team, travelers will spend the first day crossing an alpine valley surrounded by rocky slope. Several nomadic communities camp here in the summer months, pitching distinctive black tents woven from yak hair. After cresting a ridge travelers reach a high plateau dotted with rock-enclosed huts, where they can set up camp for the night.
The next leg of the trail passes through another alpine valley, skirting meandering streams with lichen-covered boulders. After crossing the high point of the trek, the Lasar-la pass, the trail descends into the Yangpachen Valley. Hikers can stop for the night at Bartso, a drokpa village of five or six houses surrounded by wild juniper grass, the kind burned as incense in Tibetan homes and temples.
The next leg of the journey crosses through the valley and over a ridge where hikers can view Nyenchen Tanglha, the holiest mountain in central Tibet. The trail passes by Tajung village and the Dorje Ling nunnery, a good spot for camping.
The final day of trekking follows the Nyango Chu River, which snakes through the grassy valley towards the Yangpachen Monastery. Fierce Tibetan mastiffs stand guard here, and the view from the monastery overlooks part of the Trans-Himalaya mountain range. Travelers have the option of ending their journey at a nearby hot springs before heading back to Lhasa.
Songtsan Travel is a Lhasa-based tour operator with more than 20 years of experience leading Tibet tours. The agency uses part of its proceeds to provide education to disadvantaged children. Songtsan Travel seeks to promote Tibetan culture and help Tibetans improve their livelihood.