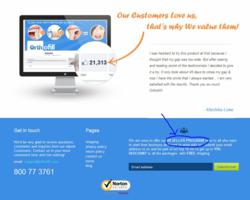 Ottawa, ON (PRWEB) August 23, 2012
Orthofill, the leading producer of non-invasive solution for teeth gap, announces major plans of accepting resellers. The company offering dental bands knows the value that the product brings to people with teeth gap and has tried to cater to all clients requiring the treatment solution only Orthofill can provide. In order to do so, the marketing team, together with the dental professionals, has decided to distribute ortho bands supply through a reseller program, which as of now is on the works to come up with an effective page for an organized process of distribution.
The reseller program will allow clients to buy dental bands at an affordable price and sell them at price rates that best work for them. Orthofill wants to pursue a stronger bond with their clients by forging partnerships through this reseller program.
At present, the Orthofill team of developers and designers are in the process of creating a web page dedicated for reseller applicants. With the new homepage redesign, clients and site visitors can expect a comprehensive and functional reseller page, not to mention visually appealing design. Even without the reseller page, Orthofill has been receiving countless inquiries from clients who want to become resellers.
Anyone who wants to become an Orthofill Reseller, just visit http://www.orthofill.com/ and check out the footer on the web page. Applicants will be prompted to provide their emails in order to directly communicate with Orthofill reseller manager. The first 10 applicants get a chance to avail of up to 15% discount to all packages with Free Shipping.
Orthofill also offers a 100% Money Back Guarantee. Their company policy is to provide its clients a risk free package. Delivery time is only 14 business days or less. Orthofill values their customers very much. Their customer policy states that "If for any reason you are not completely satisfied you can simply send it back to our mailing address and we will give you a full refund with no questions asked."
For more information on how Orthofill can treat diastema in just 30 days, visit http://www.orthofill.com.
About
Orthofill is a company owned by Clicking Labs, Inc. that started in May 2010.With dedication and perseverance, they were able to bring together a team of multi-talented individuals to provide the world with creative and interesting marketing strategies to drive success to its clients. It has stations in Ontario, Canada and Cebu, Philippines.