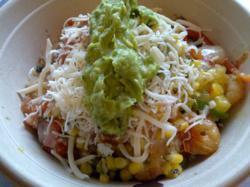 "Only Mexican restaurant you can go to and stuff your face and not feel guilty afterwards."
- Michael T. of San Diego, CA (Yelp)
Los Angeles, CA (PRWEB) August 27, 2012
There are oh so many ways to eat Ocho. Affording foodies a wealth of health food options, the meal combinations of fresh fare produce and savory salsas/toppings are limited only by one's imagination. Ocho Mexican Grill intends to reward its most adventurous and creative patrons with campaign: Entrée-ation.
entrée + creation = en•trée•ā•tion
Definition of ENTRÉE-ATION (\ahn-tray-a-shun\)
1 : the main course of a meal pieced together from Ocho's selection of nutritious proteins and fresh produce
Create. Snap. Win. Putting a little extra thought in the creation of an Ocho Mexican Grill entrée just might result in a meal on the house. Here's how:
1. Choose from the assembly line of gourmet ingredients, salsas, sauces and toppings to build-your-own entrée-ation.
2. Snap a picture using a cell phone or Instagram.
3. Share the entrée-ation with Ocho via Facebook, Twitter or Google+.
4. Include either of the hashtags, #entreeation or #eatOcho, in the post.
5. Share the pic with friends.
The entréeation with the most +1s, retweets, likes, re-pins and shares will win a free lunch on the house. One winner will be announced weekly on the family of Ocho Mexican Grill social networking pages. Prize-winning entrée-ation selections will be forever immortalized on the official Pinterest board of Ocho Mexican Grill.
Much like ingredients to a recipe, there are certain key elements to Ocho Mexican Grill's unique food concept. At its core, Ocho Mexican Grill is Quick Gourmet™: fine dining made affordable. The creative team of Chef Richer Ta and Managing Partner Chris Zuber poured their very hearts and souls into creating a food concept that is not only bursting with robust flavor, but is also fiercely healthy. From organic brown rice to vegan tofu and all-natural chicken to organic mixed greens, Ocho Mexican Grill is the healthiest Mexican restaurant in Downtown Los Angeles.
Contact:
Franklin Grimes, Social Media Manager
social (at) eatocho (dot) com
/eatOcho