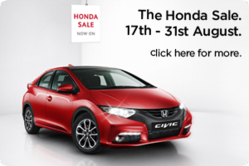 This Honda sale is a good way for customers to get a great deal on a Honda and possibly a prize too!
(PRWEB UK) 22 August 2012
To celebrate the last few weeks of summer, Hendy Honda is putting on a sales event to span across its car dealerships on the south coast, including Southampton, Exeter and Portsmouth. Not usually something Honda shouts about, this was just too good to pass up. During the event, running from the 17th of August until the 31st of August, customers can visit their local Hendy Honda dealer to bag themselves a great deal.
To run alongside the two week summer sale Honda has also launched an exciting competition, giving customers the chance to win thousands of prizes every day. Some of the prizes up for grabs include two-for-one hotel stays, return flights to European destinations, cinema tickets and one year golf card memberships.
To be entered into the daily prize draw all customers need to do is register their details on http://www.honda.co.uk/sale and wait for their unique code. The code will be sent via SMS or email and after 24 hours, can be used anytime throughout the summer sale by taking it to their local Hendy Honda dealer, to find out if they have won one of the many daily prizes.
Every customer that registers their details and takes their code to a dealer will automatically be entered into the grand prize draw, to win a Honda of their choice. The prize is the choice of the winner and can be a car, something from the motorcycle range, an ATV, lawnmower or generator – the list goes on.
"We are really excited about the prospect of the competition – it is a great way for us to engage with our customers but also something fun to get involved in" says Mark Busby, New Car Director at Hendy Honda. "This Honda sale is a good way for customers to get a great deal on a Honda and possibly a prize too!"
To find out more about Hendy Honda dealerships in Exeter, Portsmouth and Southampton or to find out more about the Honda sale visit the dedicated site.
-Ends-
Information for Editors:
Hendy Group Ltd
Chandlers Ford Industrial Estate
School Lane
Eastleigh
Hampshire
United Kingdom
SO53 4DG
Telephone: 023 8027 1271
Fax: 023 8062 7539
Hendy Group Ltd is a premier family motor group with in excess of 20 premises stretching across Southern England from Devon to West Sussex.
Hendy holds Ford, Mazda, Kia and Honda franchises, plus Ford and Iveco van and truck franchises. The company handles all aspects including sales, servicing, parts, hire, accident repairs and Rapid Fit centres. Specialist operations include Liquid Petroleum Gas conversions, engine dynamometer testing, fuel injection testing and repairs, as well as engine sales to the construction and marine industries.
Hendy was founded in 1852 and whilst having grown to a company of significant geographical and economic size, the Hendy Group remains a closely-knit family concern. Currently, both the Chairman and Deputy Chairman are great-grandsons of the company founder F.A. Hendy, with the next generation of sons and daughters within the company structure ensuring the continuity of the family business.
Throughout the company's history, the Hendy family can be said to have followed good business practice - grasping opportunities as they've appeared, reviewing operations in order to remain efficient and keeping up with manufacturers' changing demands. Above all, the Hendy family has always been careful to continue to meet the needs of customers, ensuring that they enjoy the best service and attention at all times.