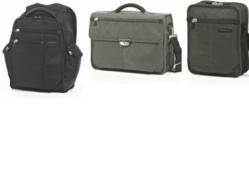 looking for a smart and elegant business look.
Kent (PRWEB UK) 26 August 2012
This is the new range of cases that Samsonite has brought out to meet the needs of customers who are looking for a smart and elegant business look. For anyone needing a bag that can be used on an every day rigorous basis and packed with functionality, the Avior case is a bag to have.
The cases come with Samsonite's branded metal hardware tag that identifies quality as it accompanies the traveller. Adding to the individual look is the stylish green lining that just shouts sophistication and the stylish brushed aluminium security lock design on the briefcase brings out a classic look.
With a choice of briefcases, laptop backpacks and bailhandle laptop briefcases there would not be a chance to fall short of choosing a style to give your belongings "on the move" padded protection .The bags are also designed with convenient compartments to store essentials like pens and phones etc. If you have ever carried a bag by its shoulder strap and realized afterward that the comfort padding was lacking, well with the Avior range the padded section comes extra long on the strap for the briefcase and bailhandle , so it covers more surface which offers more comfortable and convenient carrying as the bag moves on the shoulder.
Samsonite products are rigorously tested to ensure that the travel products you trust meet stringent standards so all their bags come with a generous guarantee.
http://www.luggage superstore.co.uk [Luggage Superstore __title__ ] established site is in West Kingsdown, Kent. Their aim is providing competitive prices of the highest quality luggage and top calibre Customer Service for online luggage shopping.
Trina Chee-a-kwai
Luggage Superstore
01474 854666
Email information