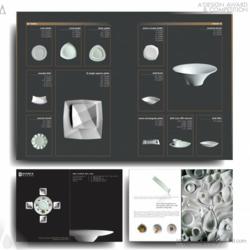 Como, Italy (PRWEB) August 22, 2012
A' Award and Competitions are happy to share that the portfolio project of Andrew Chong Chin Chuan has been awarded with the famed A' Design Award in Young Design Portfolio Category elected as one of the winners by the transnational judging committee of the A' Design Awards & Competitions among numerous nominations.
Regarding Creative & Innovative: Andrew's Portfolio
Andrew Chong Chin Chuan the designer of the winning postfolio explains "My portfolio aims to convey a balanced message between free-inspiration, innovative thinking and design-engineering by focusing on original and human centered, functional design. I believe that design enthusiasts always seek modern functional designs where a small detail makes the whole difference which contributes to the uniqueness of the design; thereby designs in my portfolio focuses on the usage of design, space and materials with a synthesis of simplicity and elaboration. In each design, a small but rather strong detail provides the visual impact that appeals to the target audience. From this perspective, the designs in my portfolio achieved a balance between functionality and aesthetic that I sought for." Learn more and download high-resolution photos at: http://www.adesignaward.com/design.php?ID=24511
The A' Design Award
The A' Design Award is a prestigious award given to top 20% percentile designs that has delivered an exemplary level of quality in design. The designs are judged by a panel of three different jury which is composed of Academic, Professional and Focus Group Members. The designs are evaluated with score normalization to remove any biases and are voted on aspects such as functionality, ergonomics, engineering, presentation, innovation, usability, fun details, technology, and any other specific points that could be considered, each of these points are further weighted for different jury groups.
About A' Design Award and Competitions
A'Design Award and Competitions, aims to highlight the excellent qualifications of best designs, design concepts and design oriented products. A' Design Award and Competitions are organized and awarded annually and internationally in multiple categories to reach a wide, design-oriented audience. Learn more at: http://www.whatisadesignaward.com