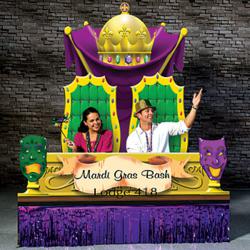 South Whitley, Indiana (PRWEB) August 22, 2012
Shindigz, a leading party supply e-tailer, suggests eight, adult parties to experience in life. Keith Bansemer, Director of Internet Marketing at Shindigz, says "these eight are wildly popular and consistently draw large crowds."
New Years Eve in New York's Times Square- United States
Since 1906, crowds have gathered in Times Square to watch the ball drop. More than one million people flock to the streets of New York City for the famous event each December 31. And a New Year's celebration in New York extends far beyond the live music and ball drop. Hundreds of nightclubs have wild parties as well as downtown hotels. Whatever you do, get your tickets early because it truly is one of the biggest parties of the year in New York City.
Mardi Gras – United States
Each year, thousands flock to New Orleans for "Fat Tuesday," or Mardi Gras. The party falls on the day before Ash Wednesday, giving partiers a chance to be "wild" just before Lent. Sometimes referred to as "the greatest free party on earth," Mardi Gras is filled with parades, King Cake, drinks, dancing, and of course, plenty of masks and beads.
Running of the Bulls - Spain
Originally a religious celebration, Pamplona, Spain's "Running of the Bulls" has turned into a major fiesta. The goal of the "run" is to get the bulls from outside of the city and into the bullring… with people leading the way for the bulls. The actual run takes only a couple of minutes, but the parties start each year on July 6th and run through the 14th. The entire celebration is called "The Fiesta de San Fermin" and people travel from around the world for the unique partying that takes place.
Oktoberfest - Germany
There are many imitators, but nothing comes close to the actual Oktoberfest in Munich, Germany. This celebration has been held annually in the fall for more than 200 years. The two-week party focuses on food, music, and most importantly, beer. Oktoberfest draws in millions of people each year, making it "the world's largest fair."
Carnival - Brazil
Parades, costumes, music, dancing, and the world's largest carnival make up Rio's annual Carnival. The parades are so intense that there are literally "schools" in which groups of people spend all year at preparing for their presentation in the parade. Millions flock to Rio de Janeiro each February for this festive, colorful, and truly cultural party experience.
Super Bowl – United States
There's a lot of pressure associated with hosting the NFL's Super Bowl championship game. So, the host city will do all it can to have the most spectacular events and parties. With each city wanting to outdo previous Super Bowl cities, it's going to be a guaranteed good time, no matter where the game is hosted. Since the Super Bowl is in a different city each year, the atmosphere is always changing. In 2012, host-city Indianapolis blocked off most of downtown for concerts, party tents, and even had a zip-line between buildings. Even if one does not have a ticket to the game itself, people of all ages make their way to the host city each year to take part in a memorable week of parties.
Holi Festival - India
Truly unique in its purpose, India's Holi Festival is centered on color and celebrates the triumph of "good" over "bad." Festival participants rub colored paints and powders all over themselves as a way of giving blessings. People throw colored water at each other, host parties, and dance under water sprinklers too. There is singing and activities for children. Holi Festival is held all over India, with some festivals lasting an entire week.
Coachella – United States
There's a lot to choose from when it comes to attending a major music festival. But to attend one with a wide range of music artists and celebrity sightings, Coachella in Indio, California is a frontrunner. It's a three day modern-day Woodstock at which most people camp out. The Coachella Valley Music and Arts Festival is held in at the Empire Polo Club and has the biggest names in music perform as well as new and emerging artists.
About Shindigz
If you can't visit these places, bring the theme party to your home. Shindigz.com makes "life more fun" for 22 million events through the manufacture and sale of personalized party supplies. With more than 36,000 products shipped from South Whitley, Indiana to 59 countries, Shindigz provides customers with a complete party solution.