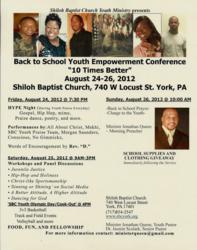 "It was great to see young people of all faiths coming out to create positive changes in their lives and in the community."
(Kwe Parker, Sr)
York, Pennsylvania (PRWEB) August 22, 2012
Shiloh Baptist Church (York, PA) is presenting a Back to School – Youth Empowerment Conference to be held August 24-26. The theme is "10 Times Better" and the goal is to encourage and inspire youth and young adults to excel in every area of their lives. The weekend begins with a Friday – HYPE Night (Having Youth Praise Everyday) Service, which will include performances in gospel, hip hop, mime, praise dance, poetry and more.
The Youth Empowerment Conference kicks off on Saturday at 9am. The conference is free, but requires registration and will consist of speakers, workshops, and panel discussions that cover topics such as: Juvenile Justice (Remembering those in Bonds), Hip-Hop and Holiness, Christ-like Sportsmanship (Being a Christian Athlete), Dancing for God, Sinning or Shining on Social Media and 10 Testimonies of Becoming 10 Times Better.
The conference will be followed by food, fun and fellowship with the SBC Youth Conference 'Olympic Day/Cook-Out' featuring: 3v3 Basketball, Track and Field events, Volleyball, and much more.
Youth Pastor Jonathan Queen, will deliver the message for the Sunday Worship Service at 10am, which will include a special back-to-school prayer and charge to the youth. School supplies and clothing will be given out immediately following the service.
The Youth Conference will be held at Shiloh Baptist Church, 740 W. Locust St. York PA. 17401. The Marketing Genie is a proud sponsor of this event. For more information or registration forms contact: ministerqueen(at)gmail(dot)com or 717-914-0948