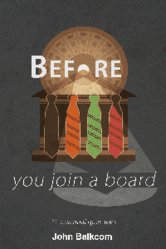 The book also helps readers understand both responsibilities of directors as well as the risk of assuming such a role – before they join a board.
Denver, CO (PRWEB) August 22, 2012
Deciding whether to serve on a board of directors for any organization can be a daunting task. This new book from a longtime board advisor and member provides clear-cut suggestions to help potential board members determine if they should say yes or no to the next opportunity that comes their way. The book also helps readers understand both the responsibilities of directors and the risks of assuming such a role – before they join a board.
In writing "Before You Join a Board: 21 Essential Questions," author John Balkcom shares his extensive experiences as a board member of both public and private organizations. He provides three broad categories of questions board candidates should explore before making a decision: those that "make or break" the opportunity, those that examine the board's health and those that help distinguish between good boards and great boards. Detailed charts of questions early in the book, including examples that would be red flags and those that would represent a gold standard, offer specific ways to evaluate opportunities. For instance, senior leadership that has limited knowledge of large customer relationships and no active participation in building such relationships would be a red flag to joining a board, while having CEOs who know the largest and best customers and participate in those relationships would set a gold standard of behavior.
Many of the questions pertain to an organization's finances, including financial audits or CEO transparency in dealings with other management, board members and investors. Other questions address equally important factors, such as voting control, determining the meaning of success, competition, leadership time horizons (and guidelines for successors), the real price of talent, the sales strategy and customer relationships, data security, customer access, culture and board composition. A short list of gracious ways to decline board invitations, bibliography and a glossary of terms round out this must-read resource for anyone considering joining a board.
Author John Balkcom spent 25 years as a management consultant and served as a partner at Booz, Allen and Hamilton and at Sibson & Company before retiring in 2000. He continues to serve as a corporate director and advisory board member for both public and private enterprises, including the governing board of the Bulletin of the Atomic Scientists. He and his wife Carol lived almost 40 years in the Chicago area before moving to Denver in 2010.
Cover art and interior art by David Grayson Kenyon. See http://www.dgrayk.com/.
For additional information, please visit http://www.beforeyoujoinaboard.com.
Before You Join a Board: 21 Essential Questions
John Balkcom
Dog Ear Publishing
ISBN: 978-1-4575-1280-3
180 pages
$11.99 US
Available at Ingram, Amazon.com, Barnes & Noble and fine bookstores everywhere.
About Dog Ear Publishing, LLC
Dog Ear Publishing offers completely customized self-publishing services for independent authors. We provide cost-effective, fast, and highly profitable services to publish and distribute independently published books. Our book publishing and distribution services reach worldwide. Dog Ear authors retain all rights and complete creative control throughout the entire self-publishing process. Self-publishing services are available globally at http://www.dogearpublishing.net and from our offices in Indianapolis.
Dog Ear Publishing – self-publishing that actually makes sense.