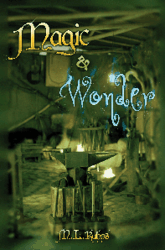 Readers will find themselves engrossed in this old-fashioned tale, infused with magic, excitement and adventure.
DEERFIELD, Ohio –
(PRWEB) August 23, 2012 -- A simple blacksmith's assistant from the kingdom of Ferin takes on the task of searching for a mystical book made by Merlin in this new fantasy novel, but 17-year-old Heath is not the only one looking for it. Draken, the evil lord of the kingdom of Durat, will stop at nothing to claim the book to give him the power to rule all worlds. Others have sought this powerful book through the years but have not succeeded.
As "Magic and Wonder" begins, Merlin puts all his knowledge into a book, written with magic so it can only be read by the right person at the right time. He creates a silver amulet shaped like a dragon's tooth that same night and leaves it with his closest friend, along with instructions to pass the amulet – and story of the book – to future generations. Years go by, and Heath's mother passes the amulet to her son. Rumors of an invasion by Draken quickly turn into reality, as the evil king tries to find the amulet that will lead him to Merlin's book. He uses magic, mythical creatures like dwarves and his own daughter, Halium, in his quest. Heath gathers his own helpers, turning to friends, witches and an elder thousands of years old to find the book.
The search for the book brings attacks from flying serpents and giant spiders, betrayal and a slow descent into madness as Draken becomes more and more relentless in his desire for power. Heath – the one described by legend who is pure of heart and kind -- finds he can turn to the powerful amulet, which guides and protects him, as well as a new love and new friends. Readers will find themselves engrossed in this old-fashioned tale, infused with magic, excitement and adventure.
Author M.L. Kuhns has lived outside a small town in Ohio his entire life. He is the father of three with two stepdaughters, having recently remarried.
----------
For additional information, please visit http://www.mlkuhns.com.
Magic and Wonder
M.L. Kuhns
Dog Ear Publishing
ISBN: 978-1-4575-1124-0
244 pages
$12.99 US
Available at Ingram, Amazon.com, Barnes & Noble and fine bookstores everywhere.
About Dog Ear Publishing, LLC
Dog Ear Publishing offers completely customized self-publishing services for independent authors. We provide cost-effective, fast, and highly profitable services to publish and distribute independently published books. Our book publishing and distribution services reach worldwide. Dog Ear authors retain all rights and complete creative control throughout the entire self-publishing process. Self-publishing services are available globally at http://www.dogearpublishing.net and from our offices in Indianapolis.