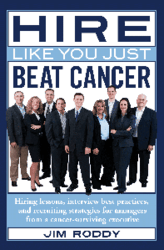 Going beyond broad, philosophical ideas, the book provides practical suggestions on how to hire the best employees.
Erie, PA (PRWEB) August 23, 2012
Being diagnosed with colon cancer at age 32 brought a new perspective to publishing company manager Jim Roddy, who shares his insights in this new book. While stepping away from day-to-day interaction with co-workers during his recovery, Roddy realized the importance of hiring the right people for a business. As he writes, "The lessons I learned when cancer knocked me down helped build me up as a hiring manager, and I apply those lessons aggressively every time I interview a potential employee."
In "Hire Like You Just Beat Cancer," Roddy covers guiding principles for hiring, interview best practices, and recruiting strategies managers can use to find great performers. Going beyond broad, philosophical ideas, the book provides practical suggestions on how to hire the best employees. For instance, Roddy presents examples of behavior-focused interviewing questions and details hiring rules of thumb that work for his company. He also details six emotional outcomes the interview process should achieve: candidates feel the company is professional, their questions are answered, candidates were happy to interview, candidates are told of the job's difficulties, candidates are sold on the job and company, and interviewers managed candidates' expectations properly.
Real-life examples of finding candidates – both successful employees and those the company never should have hired – bring a balanced view to the book and highlight the importance of hiring practices. Readers also will find a list of what the author bills as "258 Tremendous Interview Questions" which offer companies a springboard to create their own successful hiring process. It includes potential interview questions for phone screens, first interviews, second interviews, manager and executive candidates, senior executives, sales candidates and recent college graduates.
Author Jim Roddy is president of Jameson Publishing in Erie, Pa., named one of the Best Publishing Companies to Work for in the United States by Publishing Executive magazine. It's the only publishing company in the nation to rank in the top seven of the magazine's list consecutive years. Roddy previously was self-employed publishing SportsLook, a monthly magazine about high school, college and minor league pro sports. Since 1999, Roddy has educated business leaders through articles, online columns, webinars, interviews, presentations at national conferences and podcasts.
He will donate a portion of proceeds from "Hire Like You Just Beat Cancer" to the Kanzius Cancer Research Foundation and the American Cancer Society through Coaches vs. Cancer.
----------
For additional information, please visit http://www.HireLikeYouJustBeatCancer.com.
Hire Like You Just Beat Cancer
Jim Roddy
Dog Ear Publishing
ISBN: 978-1-4575-1213-1
184 pages
$17.95 US
Available at Ingram, Amazon.com, Barnes & Noble and fine bookstores everywhere.
About Dog Ear Publishing, LLC
Dog Ear Publishing offers completely customized self-publishing services for independent authors. We provide cost-effective, fast, and highly profitable services to publish and distribute independently published books. Our book publishing and distribution services reach worldwide. Dog Ear authors retain all rights and complete creative control throughout the entire self-publishing process. Self-publishing services are available globally at http://www.dogearpublishing.net and from our offices in Indianapolis.
Dog Ear Publishing – self-publishing that actually makes sense.