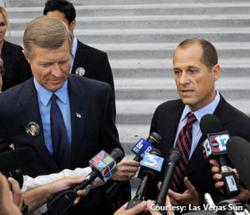 Las Vegas, NV (PRWEB) August 24, 2012
Last July 18, the Ninth Circuit upheld the $5.2 million class action verdict against Vision Airlines Inc., a government subcontractor which was found to have stolen its crew's hazard pay for flying into warzones. (Case number 11-15761, Gerald Hester et al. v. Vision Airlines Inc., in the U.S. Court of Appeals for the Ninth Circuit)
Moreover, the appeals court ruled that the class can pursue claiming additional punitive damages from the company, remanding it for future proceedings. It also approved of the sanction against Vision for deliberately delaying required documents and gave them a default liability judgment. (Cited from court-published document viewable at http://goodmanlawgroup.com/file/Decision-07-18-2012.pdf)
The court also recommended that Vision Airlines attorney Harold Gewerter be reported to the state bar for having "committed numerous ethical violations" during the case proceedings, noting that disbarment might be in order.
The class action suit was filed by retired US Navy Captain Gerald Hester in January 2009, stating that Vision Airlines kept hazard pay intended to be passed through to go to the pilots and crew members flying commercial planes into Iraq and Afghanistan war zones to bring supplies.
Motion for sanction against the airline company was filed in October 2010 as a result of the failure to preserve records and turn over discovery. Judge Roger Hunt approved the motion and struck the defendant's answer, entering default with respect to liability. The current $5.2 million liability factors in interest and costs from the $4.5 million that a jury found back then.
Vision's appeal to the court stated that while they do not dispute violating the court's discovery order in bad faith, they argue that the district court not considering other less severe sanctions was an abuse of discretion. The appeals panel, however, ruled that Vision's contention is without merit since the district court provided an explanation for the insufficiency of alternative measures, citing, "The court devoted special attention to the availability of less drastic sanctions. It carefully weighed the impact and severity of this sanction and considered whether alternative sanctions would be sufficient, but it determined that no alternative sanction would be sufficient and Vision's conduct warrants striking its answer."
Notably, the appeals panel also reversed the District Court's denial of the Class' punitive damages claim against Vision and remanded the matter for trial.
The Ninth Circuit panel included Judges Alfred T. Goodwin, Stephen Reinhardt and Mary H. Murguia. The plaintiffs were represented by David M. Buckner of Grossman Roth PA, Ross C. Goodman of the Goodman Law Group, P.C., Richard B. Rosenthal of The Law Offices of Richard B. Rosenthal PA, and Brett Elliott von Borke and Kenneth Ralph Hartmann of KozyakTropin & Throckmorton PA. Vision Airlines is represented by Edward H. Wasmuth Jr. and Edward Konieczny of Smith Gambrell & Russell LLP and Harold P. Gewerter of Harold P. Gewerter Esq. Ltd.
###
For more information, contact:
Ross Goodman
702-383-5088
http://goodmanlawgroup.com/