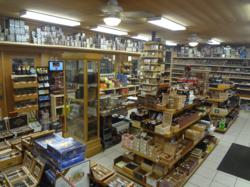 I was thrilled to be surrounded with so many talented people who are genuinely excited about their new blends. Their enthusiasm is contagious, and I can't wait to start getting some of these new cigars in the hands of our customers.
Albany, NY (PRWEB) August 22, 2012
PipesandCigars.com is an online tobacconist specializing in premium cigars, pipes, pipe tobacco, and all different varieties of smoking accessories. Their extensive product offerings provide hobbyists and aficionados with the best selection of cigars, pipes, and pipe tobacco available online. This selection has increased significantly following the 2012 IPCPR trade show, where as many as 90 new cigar brands were introduced by a variety of manufacturers.
Top members of PipesandCigars.com's expert team attended the show, extensively researching and sampling the new offerings to select the best cigars from the new brand introductions. Each brand was given careful consideration, and in the end the company decided to carry dozens of the new offerings. Some of the most high profile additions to the cigar catalog are the Joya De Nicaragau Cuenca y Blanco, CAO Concert, two new blends from Alec Bradley - Alec Bradley Connecticut and Alec Bradley Nica Puro, Asylum, Trinidad Paradox, Merlion, Vega Fina Fortaleza 2, and Pinolero.
"Attending the show was a wonderful experience for me" stated Travis Lord, the company's Marketing Director. "I was thrilled to be surrounded with so many talented people who are genuinely excited about their new blends. Their enthusiasm is contagious, and I can't wait to start getting some of these new cigars in the hands of our customers. Some of my personal favorite cigars that I sampled were the Tres Reynas, the Headley Grange, the Perdomo 20th Anniversary, the new Paul Stulac blends, and the new offerings from Pete Johnson's new company, L'Atelier cigars - the core L'Atelier cigar brand and the Surrogates cigars. Some of these brands are already on our website for sale, with more of them being shipped over the the new few months. We're getting many questions from customers who can't wait to try all the new cigars they've been reading about, and overall the excitement level within the industry is as high as I've seen it in my seven years in the business."
The 2012 IPCPR trade show featured a record-setting number of manufacturers with booths set up, no surprise given the amount of new product introductions. With many changes having taken place within the major companies recently, many familiar faces are embarking on new ventures. Examples include Christian Eiora, formerly of Camacho cigars and now producing his own CLE and Wynwood brands. Jon Huber, former president of CAO, now runs his own company called Crowned Heads, makers of Four Kicks and Headley Grange cigars.
Other companies didn't have staff shake-ups but were much more prolific than usual. Mimai cigars introduced a slew of new offerings, including new brands like Fernando Leon, Anoranza, and Merlion, as well as expanding their iconic La Aurora Preferidos line. SAG Imports and the Quesada family also had a number of new lines, headed up by the limited edition Tres Reynas and Oktoberfest, but also launching Quesada Jalapa, a new Casa Magna blend, and a new addition to their limited edition Q d'etat line in the Daga. Rocky Patel made a big splash with new lines Private Cellar, Burn, Freedom, a box-pressed version of the Rocky Patel Vintage 2003, a new Rocky Patel Edge blend featuring an Ecuadorian Habano wrapper, and a cigar called HR500 made to celebrate baseball legend Gary Sheffield's 500th home run. La Flor Dominicana, Carlos Torano, and Davidoff also had new additions to their product offerings.
PipesandCigars.com reports that they will be carrying all of the offerings mentioned in this article. Some new brands are already available, with more being added daily. Visit PipesandCigars.com for more information on when and how to obtain these new cigars.
About PipesandCigars.com: PipesandCigars.com is an industry-leading online tobacconist dedicated to bringing customers the widest selection of cigars, pipes, pipe tobacco and tobacco accessories. The company features premium cigars from brands like Ashton cigars, Montecristo cigars, Padron cigars, CAO cigars, Arturo Fuente cigars, Acid cigars and many more. They are the low-cost leader in pipe tobacco on brands like GL Pease, McClelland, Captian Black, Borkum Riff and many more. They feature thousands of pipes, ranging from inexpensive Corn Cobs and Dr. Grabow pipes all the way to the premium brands like Dunhill, Peterson, and other fine hand-carved pipes.