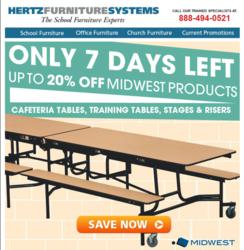 We offer an exceptional selection on all of our products and now up to 20% savings on select Midwest items.
Mahwah, NJ (PRWEB) August 23, 2012
Hertz Furniture, nationwide supplier of office and school furniture, is offering up to 20% discounts during their back to school Midwest Sale. Until the end of August, customers will enjoy super savings on 45 of Midwest Folding Products' top selling Made in USA items, including cafeteria tables, training and seminar tables, stages, and risers.
School administrators understand that a sturdy stage or riser will contribute to the success of any school performance and raise it to a professional level. And for easy mobility and storage, portability and durability are essential. Hertz Furniture offers a selection of Midwest stages and risers, with or without carpeting and/or skirting, to meet a school's needs throughout the year. As expected, all Midwest products are made from top quality materials and are backed by both the Hertz Furniture Complimentary 25 Year Warranty and their outstanding customer service.
At 20% off, Midwest's easy to open Stow-Away Bench Unit cafeteria tables are a real bargain. Ideal for the busy lunchroom, they have an Easy-clean feature which speeds floor cleaning and reduces back strain. Easy to fold and roll away, these mobile benches are also extremely strong due to the 14-gauge steel frames. This is a great time to replace old and unsafe cafeteria tables with a feature packed table at a great price.
Sturdy and comfortable training and seminar tables are a concrete investment in the success of any conference or seminar. The Midwest Smart Seminar Table on sale and at Hertz Furniture has 14-gauge steel legs that are designed to leave maximum seating space. Whether you need to furnish a whole training center with rows of seminar tables or set up individual training table as needed, our Smart Seminar Tables won't let you down.
"Our valued customers know who to turn to for all their school and office furniture needs and we are thrilled to be able to offer further savings on our high quality, competitively priced tables, stages and risers," commented Saul Wagner, Hertz Furniture's president. "Whether it's the lunchroom, boardroom or auditorium, we offer an exceptional selection on all of our products and now up to 20% savings on select Midwest items, we know we'll be able to help schools transition into the new year."
About Hertz Furniture:
For over 45 years Hertz Furniture has supplied schools, religious institutions, businesses and government offices with top quality commercial furniture and superior customer service. Speedy Quotes, Quick Ship products, a wide selection of Eco-Friendly furniture, a free Project Planning and Design service and the best warranties in the industry are just a few of the ways that Hertz Furniture provides added value to its customers. For additional information on Hertz Furniture and its extensive line of products, please visit Hertz Furniture, speak to a furniture specialist at 888-802-6549, or send an email to jonathanyunger(at)hertzfurniture(dot)com.