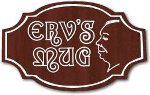 (PRWEB) August 22, 2012
Oktoberfest is a beer lover's dream, but on Saturday, September 8th, Erv's Mug is putting a unique spin on the fall seasonal beer and food festival and making every beer lovers dream come true.
Erv-toberfest 2012 at Erv's Mug is scheduled for Saturday, September 8th and will be held from 5-9pm. Tickets are $35 in advance or $45 at the door.
"Erv-toberfest 2012 is going to feature a German-inspired buffet, live music and an incredible beer sampling," says Danielle Baerwald, owner of Erv's Mug. "Although we plan to close the beer & food service down at 9 pm, our regular Saturday night Karaoke starts at 9, so I know people will stay outside to enjoy our beautiful September weather along with the Karaoke fun of Saturday Night."
Attendees receive a 5 ounce glass and partake in an unlimited sampling of over 22 Oktoberfests, pumpkin ales and fall seasonal brews. Live music, a German buffet and karaoke to follow are also a part of the festivities.
Though the beer list is tentative and subject to availability, some of the anticipated beers to be available for sampling include Capital Autumnal Fire, Abita Pecan Harvest, Southern Tier Pumking, Ace Pumpkin Cider, Lakefront Vanilla Bean Pumpkin Firkin, Blue Moon Caramel Apple Spice, Black Husky Big Buck Brown, Potosi Pumpkin Ale, Whole Hog Pumpkin, Goose Island Harvest, Winchwood Hobgoblin, Blue Moon Harvest Pumpkin ale, Tall Grass Honey Fest and more.
Breweries featuring a seasonal Oktoberfest include Capital, Ayinger, Point, Sprecher, Hinterland, Great Lakes, Leinenkugel, Summit and Sam Adams.
A German inspired buffet is included and features slider bratwurst & sauerkraut with warn German potato salad, schweinsbaten with spatzle & gravy, reuben rolls, spiced green beans, grilled ceaser summer squash, nutty apple-cherry slaw, cool beans salad, rolladen, breaded portabella mushrooms with Düsseldorf mustard caviar for dipping, German cheese & fruit platter, a variety of desserts and more.
A food only dinner option is available for $20, in advance or at the door.
"Last year we were blessed with a gorgeous 80 degree sunny, breezy day," says Baerwald. "I have put a request in for the same weather this year!"
Erv-toberfest takes place at Erv's Mug, 130 West Ryan Rd. Oak Creek, WI. For more information or to order advanced tickets call 414-762-5010 or visit http://www.ervsmug.com.
About Erv's Mug
Erv's Mug has been family owned and operated for 33 years and features a completely from scratch kitchen, one of Milwaukee's best fish fries and a weekly rotating beer selection. Erv's 32 taps beers feature some of the best craft beer in southeastern Wisconsin. Visit http://www.Ervsmug.com to learn about their Beer Dinners which feature craft beer pairings with a chef inspired menu created just for the event.