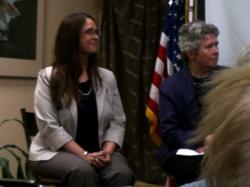 Fairbanks, Alaska (PRWEB) August 23, 2012
US Representative Alaska Democratic Party Candidate Debra Chesnut against Don Young and Matt Moore Radio Interview goes well with only a week left before the State of Alaska's US Democratic primaries. Representative hopeful Debra Chesnut went on the air recently at KFAR 660AM, a local radio station in her hometown, Fairbanks, AK, to discuss various issues concerning the residents of the State.
Chesnut intends to unseat the long-standing incumbent Don Young who has been in power since 1973 with a far larger budget for his campaign. Last month's second-quarter reporting stated that Young had raised more than $118,600 between April 1 and June 30 of this year, along with a total of $576,000 on hand. Chesnut's finances are believed to be much smaller but her grass-roots campaign has fared well in reaching the remotest of towns in this vast State.
In the interview, Chesnut took questions from callers ranging from public assistance and medical treatment for those living in rural villages or on homesteads out in the bush, her support for veteran benefits, and her views on labor unions, the Constitution, and Senate confirmations of presidential appointees. As a registered nurse who worked in the remotest parts of the State, she expressed her view that there were at times a disconnect between them and the larger, more populated cities. Having lived in and worked in such a wide variety of geographic locations in Alaska, she stated that her hands-on experience with those residents where they live qualifies her to be the most in touch with the needs of the people of the State.
Chesnut dismissed as a myth the belief that these days it is still possible to live out on a homestead solely 'from the land' without any source of monetary income whatsoever. She made clear that this did not guarantee a right to public assistance, but rather the existence of a need for a source of income, and what could be done on the government level to provide better access to work opportunities.
Chesnut joins four others in trying to win the Democratic nomination in next week's primary on August 28th, including Don Young Rep. and Matt Moore with the Democratic Party. http://debrachenut2012.com/