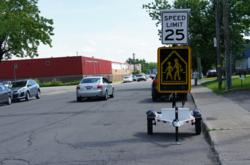 [The new products] illustrate our dedication to creating solutions that improve safety on their [city] roads.
Spring Valley, NY (PRWEB) August 23, 2012
Traffic Logix, an industry leader in radar speed displays and variable message signs, is launching two new radar speed signs, the SafePace 700 and SafePace 800 signs, as well as a new updated trailer to display them on. Unveiled to police and law enforcement professionals at the recent Police Security Expo in New Jersey, the new SafePace solutions offer innovation, simple management, and cost effectiveness.
The SafePace 700 radar speed display sign allows you to display two lines of customizable text, graphics, or animation with extra large 18" digits displaying vehicle speeds. The larger digits on the variable message sign are sized for higher speed applications, offering improved visibility over the standard SafePace 15" digits. They comply with MUTCD guidelines, which require that sign digits must be a minimum of 12" high.
The SafePace 800 speed sign offers unlimited possibilities. The cutting edge solution is a driver feedback sign and message board in one. It can be displayed vertically as a message board or as a speed display sign with extra large 18" digits and two rows of customizable text or graphics. It can also be rotated horizontally as a full matrix variable message board. Easy-to-use management software lets you choose from a variety of text and graphics or create your own. The SafePace 800 sign can display up to four alternating messages or graphics based on scheduling or driver behavior.
Both of the new SafePace signs include flashing digits and beacons to alert violators, complete 24/7, 365 day scheduling, user friendly management software, optional data collection, stealth mode to collect baseline data, and optional solar power. The SafePace 700 and 800 signs can be mounted on your choice of pole or on a speed trailer.
The new Traffic Logix Radar Speed Sign Trailer is an economical, easy to deploy solution. A simple crank raises and lowers the sign to deploy or transport it in a matter of minutes. The trailer includes a unique feature that allows the sign to be rotated in any direction. This allows you to turn the sign face toward traffic, eliminating the need for precise parking. It also allows for rotation of the sign during travel for wind protection. An included speed limit sign offers interchangeable numbers so that your trailer can be used on any roadway, without the need for new signage. The Traffic Logix Radar Speed Sign Trailer includes battery power and offers optional solar power.
All three of the new product offerings are competitively priced.
"We're really excited about these new additions to our product lineup," said Ben Cohen, director of product development at Traffic Logix. "They are responsive to the needs of police departments and municipalities and illustrate our dedication to creating solutions that improve safety on their roads."
Traffic Logix manufactures the SafePace series of radar speed signs and speed trailers as well as modular rubber traffic calming solutions. With thousands of solutions installed across the world, Traffic Logix is an industry leader in traffic calming and safety.
More information on the new SafePace signs and radar trailer are available on the Traffic Logix website or by contacting the company.