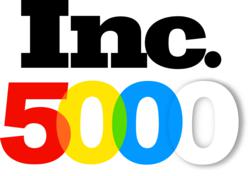 We're very proud and honored to be included once again on the list of America's fastest growing companies. We're on this list because of our highly skilled team who are focused on delivering the best products and amazing customer service.
Atlanta, GA (PRWEB) August 22, 2012
Inc. magazine has released its 2012 Inc. 500|5000 list of the nation's fastest-growing private companies and, for the second consecutive year, The Rainmaker Group is among this elite group, ranking No. 2222, a significant 31 percent jump in the list from last year's ranking at 2907. The annual list represents the most comprehensive look at a critical segment of the American economy: independent entrepreneurs.
Inc.'s exclusive ranking is particularly noteworthy when placed in a macro-business context and for two reasons:
First, there are currently seven million private, employer-based companies in the U.S. and a mere seven ten-thousandths of a percent (0.0007%) of these companies earned this distinction. In addition, these companies have posted this phenomenal growth against the stiff headwinds of three of the toughest economic years in recent history.
A world leader in automated profit optimization software and services for the multifamily housing and gaming/hospitality industries, Rainmaker ranks No. 168 in the software category. Among the entire list, Rainmaker joins AutoTrader.com, yogurt maker Chobani, Giftcards.com, Gogo, Great Clips, KIND, Kronos, Levi Strauss, Mindshare Technologies, Netlink, Peerless Network, Publix, Smashburger, Yelp and YouSendIt, among other prominent brands featured on this year's list.
In a stagnant economic environment, median growth rate of 2012 Inc. 500|5000 companies remains an impressive 97 percent. The companies on this year's list report having created over 400,000 jobs in the past three years, and aggregate revenue among the honorees reached $299 billion.
Tammy Farley and Bruce Barfield, co-founders and principals of The Rainmaker Group, give credit for the steady and consistent growth of their company to their team of professionals and the continued adoption of automated revenue management and profit optimization solutions by companies in the multifamily housing and gaming/hospitality industries.
"We're very proud and honored to be included once again on the list of America's fastest growing companies," said Farley. "We're on this list because of our highly skilled team, including both employees and supplier-partners who are focused on delivering the best products and amazing customer service. Across the Rainmaker enterprise, our focus, each and every day, is to identify, develop, and continually enhance our product solutions to help our customers drive sales and revenues. By remaining true to our mission, we retain the confidence and trust of our valued clients – world-class companies that are leaders in their respective industries. We are grateful to our customers for their business – for without them, we have no business."
The Inc. 5000 companies, including The Rainmaker Group, will be celebrated at the Inc. 500|5000 Conference and Awards Ceremony from October 3-5, 2012, at the JW Marriott Desert Ridge Resort & Spa in Phoenix, Ariz. This year's ceremony will bring together previous and current winners as well as the greater business community to recognize creativity, dedication and hard work. Inc.'s ranking of the fastest-growing privately held companies in America spans more than 30 years.
Inc. Methodology
The 2012 Inc. 500|5000 list is ranked according to percentage revenue growth when comparing 2008 to 2011. To qualify, companies must have been founded and generating revenue by March 31, 2008. Additionally, they had to be U.S.-based, privately held, for profit, and independent – not subsidiaries or divisions of other companies – as of December 31, 2011. (Since then, a number of companies on the list have gone public or been acquired.) The minimum revenue required for 2008 is $100,000; the minimum for 2011 is $2 million.
About Inc. Magazine
Founded in 1979 and acquired in 2005 by Mansueto Ventures LLC, Inc. (http://www.inc.com) is the only major brand dedicated exclusively to owners and managers of growing private companies, with the aim to deliver real solutions for today's innovative company builders. Total monthly audience reach for the brand has grown significantly from 2,000,000 in 2010 to over 6,000,000 today.
About Rainmaker
The Rainmaker Group is the market leader in profit optimization solutions for the Gaming & Hospitality and Multifamily Housing industries. Rainmaker software, coupled with professional business consulting services, helps operators of casino hotels and other hospitality enterprises secure the most valuable customers to increase their profitability and enables multifamily housing operators to maximize revenue from apartment leases. Rainmaker is a Microsoft Gold Certified Partner and leverages cutting-edge research in order to bring customers the most sophisticated solutions to their revenue management challenges. Adopted by industry leaders and niche players alike, Rainmaker solutions provide clients a strategic advantage in achieving the highest profitability from their assets. Gaming/Hospitality clients include leading casino/hotel organizations such as Atlantis The Palm Dubai, Caesars Entertainment, Isle of Capri Casinos, MGM Resorts International, Omni Hotels & Resorts, Revel, Wynn
Las Vegas and many others. Multifamily housing clients include leaders such as Archstone, AvalonBay Communities, Equity Residential, Gables Residential, Post Properties, Mid-America Apartment Communities and more. Headquartered in northern Atlanta, GA, Rainmaker is an innovator and thought leader in the highly specialized revenue optimization field. For two consecutive years, Inc. magazine has ranked Rainmaker among America's top 5,000 fastest growing, privately held companies. For more information, visit http://www.LetItRain.com.
##