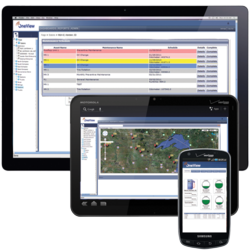 "We look forward to brining the OneView fleet and service management capabilities to the Canadian market."

Ian McPherson, CSO of Pedigree Technologies
Fargo, ND (PRWEB) August 23, 2012
Pedigree Technologies, LLC today announced a strategic partnership with Storm Telematics, Inc. of Alberta, Canada, bringing the award winning software-as-a-service (Saas) products of Pedigree Technologies OneView® to Canada. The announcement of this partnership represents Pedigree Technologies first OEM licensing agreement outside of the United States.
"A number of our current customers cross into Canada during their normal course of business," said Alex Warner, CEO of Pedigree Technologies, "we are excited to continue to expand our area of service through our partnership with Storm."
Pedigree Technologies OneView® suite of applications will be available through Storm Telematics under their Smart-vu Pro brand. The application will provide mobile resource management for vehicles and equipment combined with inventory management and predictive maintenance.
"Vehicle theft is a growing concern in Canada," said Curtis Serna, President of Storm Telematics. "By leveraging Pedigree's fleet management and asset tracking capabilities we are able to extend our asset recovery guarantee to more types of equipment in addition to providing new services, such as inventory management, to our customers."
Smart-vu Pro is web-based, allowing customers to access it anytime and anywhere on any device with an Internet connection. SaaS products also eliminate software installs and upgrades, and because they are hosted over the Internet they do not require a customer to purchase additional IT hardware.
"Our strategic partnership with Storm Telematics strengthens our channel portfolio," said Ian McPherson, Chief Strategy Officer at Pedigree Technologies. "We look forward to bringing the OneView fleet and service management capabilities to the Canadian market."
Pedigree Technologies is headquartered in Fargo, North Dakota and operates satellite locations in Boston, MA; Denver, CO; Dickinson, ND; Houston, TX; New Orleans, LA; San Francisco, CA; and Sioux Falls, SD.
About Pedigree Technologies
Pedigree Technologies OneView® uses connected technologies to track, monitor, and diagnose remote assets with a single software platform. The suite of web- and tablet-based applications provides real-time insight into operations, with actionable data for better decision making. Users can manage essential vehicles, equipment, and workers from anywhere, at any time, on any device with an Internet connection. For more information, visit http://www.pedigreetechnologies.com.
About Storm Telematics
Storm Telematics has partnered with a variety of third party vendors to provide a reliable, comprehensive, and scalable platform for premium telematics and GPS services. For more information, visit http://www.stormgps.com.