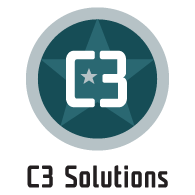 Our strategy required a best of breed yard management system and given C3's impressive track record they were the natural choice, says Marija Simovic, COO at Yodel.
United Kingdom (PRWEB) August 23, 2012
C3 Solutions is pleased to announce that Yodel, the UK's leading parcel delivery company, has successfully completed the implementation of C3's yard management system(Yard Smart) at its four key facilities. The solution was purchased from telematics and systems integration specialists, Isotrak, which had been commissioned to create a Control Tower System for the parcel giant. The cutting edge control tower was launched last year and now optimises and manages Yodel's fleet of over 600 LGVs and 1,500 trailers.
With C3's Yard Smart, Yodel is able to maximize the operational efficiency of each sort centre and gain complete visibility of vehicles arriving and departing the sites in order to minimize the risk of service failures. Yard Smart ensures that all vehicles are processed as soon as they arrive at the depot, thereby minimizing the time that trailers are parked idle in the yard. In addition Yard Smart assigns trailer moves to yard drivers that are the highest priority to the operation.
"C3's Yard Smart is an integral part of our control tower initiative," commented Marija Simovic, COO at Yodel. "Our strategy required a best of breed yard management system and given C3's impressive track record they were the natural choice."
"Yodel is another example of a leading edge post & parcel company that relies on C3 to manage their yard operations," states Greg Braun, Senior VP Sales and Marketing at C3 Solutions. "C3's unique site flow approach to yard management delivers the return on investment expected by best in class operators throughout the world."
About C3 Solutions
C3 Solutions is a leading provider of software solutions dedicated to the area of yard management and dock scheduling. C3's customers are fortune 1000 companies in the retail, manufacturing, transportation and post and parcel industries. C3's products include its award winning yard management software, Yard Smart and its on-demand dock scheduling system - C3 Reservations. Founded in 2000 and based in Montreal QC, C3 Solutions has customers in the United States, Canada and Europe. For more information on C3's products, schedule a free on-line demonstration .
About Yodel

Home Delivery Network Ltd on 1 March 2010 purchased through its subsidiary company, Parcelpoint Ltd, the domestic B2B and B2C businesses of DHL Express (UK) Ltd
Yodel delivers more than 170 million parcels per year with annual revenues of £650 million
It is the second-largest parcel delivery business in the UK after the Royal Mail
Yodel operates from a national network of sort and service centres and has a fleet of 5,000 vans

The company is headquartered in Hatfield.
http://www.yodel.co.uk
For further information about Yodel
Yodel press office 01707 287670 or press.enquiries(at)yodel.co(dot)uk
Sarah Barnes
Red for Yodel 020 7025 6681 or yodelteam(at)redconsultancy(dot)com
James Ralph / Jess Burr
About Isotrak
Isotrak customers save over £100,000,000 per year by using their mobile assets more efficiently.
Isotrak helps companies save money, improve customer service, reduce their environmental impact and win new business, all by using mobile assets more efficiently. Isotrak provides best-in-class software products and professional service solutions, driven by a combination of real-time visibility and performance measurement, interpreted from GPS satellite tracking and vehicle telematics data. To help customers focus on the job of managing transport, rather than managing technology, Isotrak delivers its products on a proven 'managed service' platform, backed by a high-availability Service Level Agreement (SLA), and accessible through any modern web browser.
Established in 1996 as a division of NFC, Isotrak became a separate company in July 1999 and today supports over 35,000 vehicle connections for customers including Asda, Eddie Stobart, Marks & Spencer, Sainsbury's, Skanska Utilities, Tesco, and the Royal Mail and many more. For more information, see http://www.isotrak.com
Corporate enquiries to Alan Gunner, telephone +44 (0) 1908 540 700 or email sales(at)isotrak(dot)com