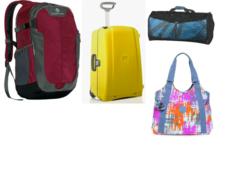 It seems that the typical black or dark coloured cases are now being pushed on the shelf
Kent (PRWEB UK) 28 August 2012
The Huffington Post has reported that the public and paparazzi may now be more interested in the luggage the celebrities are sporting, as it were. The tastes in luggage the celebs saunter through Heathrow airport with are influencing the mini breaks bag shops, according to Virgin Atlantic.
Statistics show that 25% of 16-24 year olds would be swayed to buy the luggage they have seen their favourite celebrity wearing, showing that more women are influenced than men in this area.
One in ten will replace luggage when it has worn out or to just simply have a better bag than their travelling companions and a third of women (32%) would consider buying new luggage based on their holiday destination.
It seems that the typical black or dark coloured cases are now being pushed on the shelf as more and more passengers are choosing to show off their personality and make a fashion statement with their bags.
Paul Bushell from Virgin Atlantic, commented: - ".....our crew carries almost anything, from leather holdalls to leopard print cases, and too many designer trunks to mention."
An example would be The Backpack to reveal: Meet the eternally young at heart traveller, who enjoys a freewheeling, commitment-free lifestyle. They hate being pinned down and treasure the ability to go anywhere the wind takes them. This frequent flier is a true explorer, a stout-hearted adventurer who will make the best of any situation.
To be able to see more on suggestions on what the choice of luggage say about your personality follow this link: - http://www.huffingtonpost.co.uk/2012/08/21/travel-luggage-say-about-personality-celebrities_n_1816152.html?icid=maing-grid7|uk|dl5|sec3_lnk1%26pLid%3D123373#slide=1406843
Luggage Superstore established site is in West Kingsdown, Kent. Their aim is providing competitive prices of the highest quality luggage and top calibre Customer Service for online luggage shopping.
Trina Chee-a-kwai
Luggage Superstore
01474 854666
Email information