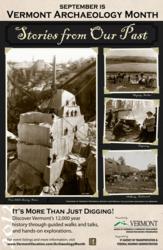 This line-up of events superbly covers a range of learning from family-friendly Pre-K to Ph.D
Montpelier, VT (PRWEB) August 22, 2012
Novices and history buffs alike can learn about archaeology, nature and the environment at more than 40 interactive and educational events. Organized walks and talks, hands-on explorations, presentations and panels are available nearly every day. Highlights include:
Cultural Shifts and Climatology: Lessons from the Past for the Future, September 12
Internationally recognized Archaeologist Dr. David G. Anderson offers a global perspective on how climate change has dramatically, and sometimes subtly changed cultures over the last 15,000 years. Learn how scientists unravel clues to reach their conclusions. Following this presentation, a panel of climate experts will continue the discussion. Pavilion Auditorium, Montpelier, Vt.
The Grand Opening of the Vermont Archaeology Heritage Center, September 13
Celebrate the creative partnership that joins the state's archaeological collections with the historic collections at the Vermont History Center in Barre, Vt. Tour the new space and the inaugural exhibit, "How Do You Know That? Unraveling the Past Through Archaeology."
Atlatl: Spear-Throwing IS a Family Activity, September 21-23
Learn how to make an atlatl, use one, and watch the experts' craftsmanship and 90mph dart-throwing skills. Workshops teach modern and traditional techniques of atlatl and dart construction. Chimney Point State Historic Site, Addison, Vt.
"Vermont Archaeology Month smartly hosts approachable 'topic-per-day' learning opportunities to appeal to a wide audience," Vermont Department of Tourism and Marketing Commissioner Megan Smith said. "Vermonters as well as visitors to our state have various interests and this line-up of events superbly covers a range of learning from family-friendly Pre-K to Ph.D."
All events are open to the public and most are free. Visit http://www.VermontVacation.com/ArchaeologyMonth for further information and check out updates on Facebook. Vermont Archaeology Month is presented by the Vermont Agency of Commerce and Community Development and the Vermont Division for Historic Preservation with generous support by the Vermont Agency of Transportation, the National Life Group, Montpelier Heritage Group, the University of Vermont Anthropology Department, Betsy's B&B in Montpelier and the Vermont Natural Resources Council.
Photos and Poster Graphics are Available