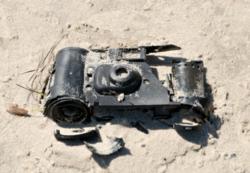 Most cameras now come with shockproof technology, but for some, a simple drop could cause quite serious damage
(PRWEB UK) 23 August 2012
With photography becoming an increasingly popular hobby as camera's and equipment become more readily available, it is still easy to damage or break equipment if basic precautions are not taken. The Camera Insurance team have put together 6 top tips to help protect camera equipment.
1. Sand
Cameras have moving parts and there is nothing more worrying than the thought of sand and grit getting into the moving parts within the camera and causing irreversible damage.
The most obvious way to avoid such incidents is to not take a camera into a sandy environment. As this is not always practical, it would be a good idea to change any lenses or memory cards before approaching places with sand, such as beaches, as sand can easily enter the body of camera when it is opened up.
Sealable bags may also be used to keep out any invasive sand particles. Brushes and cloths are as great way to remove grains of sand from the camera itself if required.
2. Insect Repellent and Sunscreen
When shooting outdoors, it is important to carry two separate bags, one for the camera and equipment, and another for sunscreen and insect repellent.
It is important not to put both in the same bag as this can result in damage to the camera if a spillage does occur.
Also, after applying sunscreen or insect repellent, it is essential that hands are washed with clean water to avoid grease getting onto the camera and equipment.
3. Water
Water and moisture can quickly end the life of cameras and equipment. There are several ways to avoid a camera being destroyed or damaged in this way.
One good way to avoid this type of damage is to be sure to use the camera wrist or neck strap so that it cannot accidentally be dropped or knocked whilst using it in wet environments.
A more cunning attack on cameras is moisture, usually caused due to rapid temperate changes, so it is essential that photographers keep a silica gel pack in their camera bags to absorb any excess moisture.
This is particularly important when using the camera on a skiing holiday. Taking the camera from the warmth of indoors to suddenly out in the cold often results in a quick build up of harmful condensation.
4. Dust
Similar to sand, dust is a more subtle attacker on cameras as it is able to settle on working parts inside the camera such as the image sensor.
To avoid such problems, wipe down the camera after every use and either clean the image sensor every few months at home or have it professionally cleaned.
5. Drops and Falls
Most cameras now come with shockproof technology, but for some, a simple drop could cause quite serious damage.
Using a padded bag or case is a great way of protecting any camera whilst travelling. Using the camera straps as mentioned above can also prevent accidental drops and falls.
6. Theft
Another common potential camera risk is having it stolen when it is least expected.
Always keep a close eye on all gear and equipment when using it, and try to carry the camera whole time when it is not in use.
Keep camera bags tightly fastened and try to wear the bag at the front so that it is visible at all times. Never leave a camera in view in an unattended vehicle.
With these, and many other potential risks, it is worth considering camera insurance. A variety of policies are available from camerainsurance.co.uk.