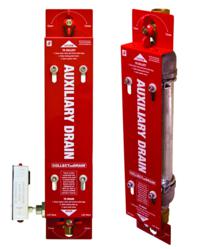 Don't get burned by sprinkler system freeze ups.
Malvern, PA (PRWEB) August 24, 2012
The latest innovation for the fire sprinkler industry from AGF Manufacturing is COLLECTANDRAIN, a condensation collection assembly, or "drum drip", designed to prevent the accidental tripping of dry pipe and pre-action fire sprinkler systems during maintenance or as a result of vandalism.
The patent pending anti-trip plate prevents the opening of either the upper or lower valve of the assembly unless the opposite valve is closed, ensuring that COLLECTANDRAIN is operated according to NFPA 25 guidelines. Keeping on top of required maintenance is easy with an optional battery-powered water detection alarm to notify you whenever draining the assembly is necessary. COLLECTANDRAIN is available fully assembled or as a field assembly kit in two versions: the standard model 5200 and the model 5100 with water detection alarm.
For more information, visit AGF online at http://www.testandrain.com or call 610-240-4900