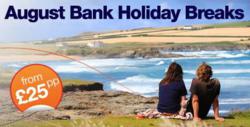 (PRWEB UK) 22 August 2012
Superbreak, the weekend breaks specialist, has reported an increase in online revenue across key packaged product areas for the approaching August Bank Holiday weekend, with its popular theme park and attraction break packages already showing growth of +61% year-on-year.
The Yorkshire based tour operator has also responded to a +41% week-on-week visitor growth to its website via bank holiday related searches by presenting customers with a wealth of short break ideas for the bank holiday weekend. Superbreak's growing collection of products includes a choice of UK dinner deals, theatre breaks and spa breaks, as well as a host of travel breaks from UK rail breaks, Eurostar Breaks and P&O ferry deals to hotel and flight inclusive breaks across Europe and beyond.
To date, online booking trends for 2012 show a shift toward regional city and seaside short break destinations – a noticeable change from 2011, where customers preference were more in favour for hotels in London. This year, Superbreak has reported online revenue growth for the bank holiday weekend in both North West and southern coastal destinations, including Blackpool, Bournemouth and Brighton, with 20% of online bookings to date being for the company's popular two night dinner deal breaks.
In 2011, Superbreak reported a +29% year-on-year online revenue increase over the bank holiday period across its rail, theatre and attraction break packaged products. This year, the trend continues with the tour operator reporting a +61% year-on-year revenue increase for its theme park breaks alone, with the most popular products including the Warner Bros. Tour - the Making of Harry Potter, Chester Zoo and Legoland. The long standing relationships with many key theme park and attraction suppliers has enabled Superbreak to offer customers a range of ticket and hotels breaks to suit all budgets.
Khalid Amin, Online Marketing Manager at Superbreak, commented: "August Bank Holiday is traditionally a great time for us, with many customers choosing to take advantage of the last bank holiday of the year. This year, we are able to offer our customers a greater selection of dinner deals, family theme park breaks, London theatre breaks and even hotel and flight packages to Europe and beyond, so there are more reasons to book for the August Bank Holiday Break".
About Superbreak:
Superbreak is the internet division of Superbreak Mini Holidays Limited, the market leader for short breaks throughout the UK, including cheap weekend breaks and hotels in Manchester, London, Edinburgh, Paris and Dubai. Superbreak is part of Holiday Break plc. Based in York, England, Superbreak specialises in booking city breaks in 2-5 star hotel accommodation throughout Britain for the leisure traveller. Superbreak also work with various travel providers offering a range of last minute hotel offers, including rail breaks, P&O mini cruise breaks, flights & more.
With 5000 plus hotel partners in worldwide locations from Glasgow to Brighton, from London to Paris and with great availability and rates for theatre breaks, events at the O2 Arena, various popular attractions and national and international rail partners, Superbreak can offer an outstanding depth and breadth of UK and Overseas short break products.
Note to the editors:
We authorise the republication of this content with the condition that a link to Superbreak is included: http://www.superbreak.com