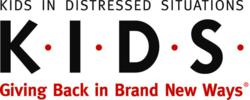 New York, NY (PRWEB) August 23, 2012
National non-profit organization, Kids In Distressed Situations (K.I.D.S.), has joined forces with Operation Homefront, Tri-State to help hundreds of hard pressed military families in the tri-state area by providing brand new back-to-school clothing for their children.
The children's apparel is being distributed by K.I.D.S. and Operation Homefront, Tri-State to military families at four locations: Fort Dix, N.J. (August 17th, Joint Base); the Armed Forces Reserve Center in Farmingdale, N.Y. (August 21st); Stewart Air Force Base in Newburgh, N.Y. (August 22nd, Stewart AFB); and the U.S. Navy Submarine Base in Groton, Conn. (August 24th).
"Our troops serving in Afghanistan and in many locations at home and around the globe are struggling to make ends meet," said David Coleman, Interim President of K.I.D.S. "We are pleased to team up with Operation Homefront, Tri-State and relieve some of the financial burden on our military families by helping to get the children ready for back- to-school with new clothing they can wear with pride."
Alison LaFerlita, Chapter President, Operation Homefront - Tri-State, said, "Operation Homefront,Tri-State is delighted to be working in conjunction with K.I.D.S. on our back-to-school program. Their generous donation of brand new clothing will be a great surprise to our military children and an added value to their parents. According to the National Retail Federation, families with school-age children will spend an average of $450.76 on back to school items. Imagine the sense of relief felt by our military families when they know they can rely on organizations like ours to alleviate the financial pressure and give their children a great start to the new year."
Readers interested in learning more about K.I.D.S. are invited to visit http://www.kidsdonations.org. For more information about Operation Homefront - Tri-State, go to http://www.operationhomefront.net/tristate.
About K.I.D.S.
Only Kids in Distressed Situations gives children and teens impacted by poverty and tragedy new kid-essential products that are vital to elevating the vulnerable self-worth of a child. K.I.D.S. ships and delivers products directly to impoverished children through a network of local partner agencies located in all 50 states. Since its inception in 1985, K.I.D.S. has provided almost 1 billion dollars to help nearly 70 million children across the country and abroad in families that are homeless, in the military, dealing with low literacy, major illness or natural disasters, as well as domestic abuse and incarceration. Charity Navigator has awarded K.I.D.S. its highest four-star rating five years in a row; Forbes magazine ranked K.I.D.S. 6th in fundraising efficiency, and The Chronicle of Philanthropy placed K.I.D.S. among the top 2 percent of non-profits in the U.S. K.I.D.S. has a consistently low overhead of less than 3 percent. More than 97 percent of the value of donations to K.I.D.S. goes directly to the children and teens in need. The non-profit receives both financial and product donations directly from companies, foundations and individuals. For every $1 raised, K.I.D.S. provides $10 worth of product.
About Operation Homefront
Operation Homefront leads more than 4.500 volunteers across 29 chapters and has met more than 267,000 needs since 2002. Nationally rated a four-star charity by watchdog Charity Navigator, 95 cents of each dollar of total revenue donated to Operation Homefront goes to programs.