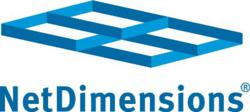 We believe NetDimensions is clearly a company to watch. - Josh Bersin, CEO and President, Bersin & Associates
Rocky Hill, CT (PRWEB) August 23, 2012
NetDimensions (AIM: NETD; OTCQX: NETDY), a global provider of performance, knowledge, and learning management systems, today announced it has been recognized as a unique provider of learning and talent systems in a new research bulletin published by Bersin & Associates.
"While the company has been flying under the radar screen for many years, NetDimensions now has a large and sustainable customer base and can deliver a solution which scales from very small implementations to a large enterprise," stated Josh Bersin, Chief Executive Officer and President, Bersin & Associates, the leading provider of membership programs that deliver research-based best practices in human resources, talent and learning. "With the company's strong enterprise product offering, and rapidly growing sales and service channel, we believe NetDimensions is clearly a company to watch."
The research bulletin includes an overview of the global LMS market and the dynamics prevailing in the industry today. "The LMS market has become highly integrated with the 'talent management systems' market," noted Bersin.
The NetDimensions Talent Suite is an organically developed software platform that focuses on Learning & Performance at its core. It includes NetDimensions Learning, NetDimensions Exams, and NetDimensions Performance, as well as mobile, social, compliance, and extended enterprise solutions.
"The NetDimensions Talent Suite is focused on practical talent management with key differentiators around compliance, mobile, and global capabilities," explained Alex Poulos, Chief Marketing Officer at NetDimensions.
The research bulletin also features insights based on interviews with a number of NetDimensions clients and resellers, with some examples of how NetDimensions solutions have been successfully implemented.
To read the full Bersin & Associates Research Bulletin, click here.
About NetDimensions
Established in 1999, NetDimensions (AIM: NETD; OTCQX: NETDY) is a global provider of performance, knowledge, and learning solutions.
The NetDimensions Talent Suite enables companies, government agencies and other organizations to personalize learning, share knowledge, enhance performance, foster collaboration, and manage compliance programs for employees, customers, partners and suppliers.
Recognized as one of the talent management industry's top-rated technology suppliers in overall customer satisfaction, NetDimensions has been chosen by multinational organizations worldwide including ING, Cathay Pacific, Chicago Police Department, Delphi Automotive, Progress Software, and Travelex.
NetDimensions is ISO 9001 certified and NetDimensions hosted services are ISO 27001 certified.
For more information, visit http://www.NetDimensions.com.
Media Contact
Robert Torio
Senior Marketing Manager
+852 2122 4500
media(at)netdimensions(dot)com