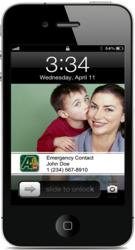 (PRWEB) August 23, 2012
Many people have a contact on their cell phone listed as "I.C.E." (In Case of Emergency), so that authorities will be able to contact the user's designated emergency contact, if necessary. However, most people keep their phones locked, making it impossible for authorities to retrieve the contact information.
Because access to this information can be crucial in emergencies, Acadian Ambulance has developed the Acadian I.C.E. app. The app, which is offered free of charge as a public service from Acadian, creates an emergency contact banner on the phone's home screen or lock screen. If there is an emergency and the user is unable to communicate, authorities can contact the user's designated emergency contact even if the phone is locked.
The I.C.E. app also allows users to securely store information regarding current medications, medication allergies, and health conditions. This information, accessible only after the phone has been unlocked by the user or the emergency contact, can ensure medical personnel are informed of any special needs or conditions. In addition to emergency situations, the I.C.E. app can also help if the phone is lost since the contact number can be used to return the phone.
The free Acadian I.C.E. app is now available to iPhone and Android users by searching "Acadian I.C.E." in the App Store or Google Play. For more information about the app and for detailed instructions on how to download the free app, visit http://www.acadianice.com.
Acadian Ambulance provides emergency and non-emergency transportation and care to 58 parishes and counties across Louisiana, Texas, and Mississippi, and is one of the largest and most highly acclaimed ambulance services in the nation.
Since 1971, Acadian has been committed to providing the highest level of emergency medical care and transportation possible. In the past decade, they have expanded to include a diverse suite of services designed to offer the very best support and education in health, safety, and transportation. Acadian's six divisions are Acadian Ambulance Service, Acadian Monitoring Services, Air Med, Executive Aircraft Charter Service, National EMS Academy and Safety Management Systems.