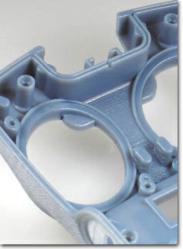 "This machine brings two major factors to a company like Helix. One is the incredibly realistic models the machine produces and the other is the speed that these models are produced," explains Ben Arnold
Manchester, NH (PRWEB) August 27, 2012
The year 2012 marks the 15th anniversary since the design world was literally transformed, and that new technology is now poised to revolutionize our entire world.
It's called 3D Printing, and Helix Design, of Manchester, New Hampshire, is an industrial design firm that has stayed at the apex of the industry by offering this service to it's list of global clients.
Initially, 3D printing was introduced as a cutting-edge technology yet expensive and therefore rarely-used technology. Helix was one of the firms to recognize the benefits and master its use early on. In fact, this summer Helix Design is celebrating ten years of offering 3D printing to its clients.
For those new to the concept, 3D Printing, also known as "additive manufacturing," is a process by which materials are joined together in order to create a precision model based on a digital design. The concept works in reverse to the long-standing traditional technique of subtractive manufacturing, such as machining.
It opens up a whole new realm to the process of industrial design, and it's the clients who can reap the rewards.
At Helix, an Eden 350V 3D Printer is used to create models based on the designs by the diverse team of engineers.
"This machine brings two major factors to a company like Helix. One is the incredibly realistic models the machine produces and the other is the speed that these models are produced," explains Ben Arnold, regional manager of Objet Geometries, which manufactures and distributes the Objet 3D printers.
Speed is just one of the many benefits to 3D printing, which enables firms like Helix to greatly reduce production time for their clients.
"A designer can literally hold their idea in their hand in under an hour. They can start a print job, run out to lunch and come back to see their creation as a full scale model," says Arnold. "The machine also has a very wide range of material properties it can print in. Rigid plastic parts, all the way to soft rubber handles and gaskets, and even clear windows!"
3D printing technology may be relatively new to the industry, but appears to be the definitive wave of the future.
"It is becoming widely discussed in business and technical circles that 3D printing will revolutionize many aspects of our lives," Arnold explains. "As the technology improves, and costs comes down, 3D printing will move from prototyping applications into much broader, true manufacturing applications. This will enable much higher levels of customization as well as production techniquest that are not possible with any other method.
Helix Design can now serve their clients with "faster product innovation, and allow customers to make more informed decisions as their design evolves," says Arnold.
Founded by multi-patent owner Joe Schappler, Helix Design has a long list of awards to its credit over the years. Their recent design for DeLorme's inReach two-way satellite communications device alone snagged Helix a number of prestigious achievements, including the 2012 International CES Innovations Design and Engineering Award, the 2012 Backpacker Editors' Choice Award, the 2012 National Marine Manufacturers Association Innovation Award for Consumer Electronics, the 2011 Men's Journal Gear of the Year Award, the 2011 Popular Science best of What's New, the 2011 Outside Magazine Gear of the Show Award, the National Geographic Adventure Gear of the Year Award, and the 2011 GearJunkie.com best of Show Award.
For its worldwide clients, Helix offers a wide variety of product design services including industrial design, mechanical engineering, models and prototypes, manufacturing services, design research, user interaction and ergonomics and project management.
To learn more about Helix Design, which is located at 175 Lincoln Street, and the many services that they offer, call (603) 644-1408, or visit their website at http://www.HelixDesign.com.
Objet Geometries is headquartered in Rehovot, Israel with a North American office in Billerica, Massachusetts. To learn more about their 3D printers and other services available, visit their official website at http://www.objet.com.