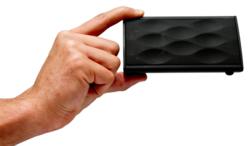 Cambridge, MA (PRWEB) August 23, 2012
Cambridge SoundWorks®, a worldwide leader in high end table radios, speakers and home theater systems, today announced it will begin shipping the OontZ Angle, the Ultra-Portable Bluetooth wireless speaker, by the end of this week. The OontZ Angle weighs only nine ounces and has a sleek triangular design with curved angles making it comfortable in your hand to take it with you, everywhere you go. It delivers amazing sound quality and surprising volume with its two precision neodymium drivers and costs just $69.99, far less than half the price of the Jambox. The OontZ Angle joins the OontZ™, which began shipping in early August, to now offer consumers two choices for high-quality ultra-portable wireless sound.
"At first glance it may seem that introducing the OontZ Angle and the OontZ priced at just $69.99 each, represents a radical departure from Cambridge SoundWorks' history of engineering high end table stereo systems and high quality home speaker systems," said Craig McHugh President and CEO, of SoundWorks, Inc. "Upon further review, however, the amazing sound and incredible low price of The OontZ and OontZ Angle are keeping with Cambridge SoundWorks' long-term strategy of providing better performing and better sounding speakers at less than half the price of the leading competition. That's exactly what we have done with the ultra-portable OontZ and OontZ Angle, which we believe have better sound, better volume and are priced at far less than half the price of the Jambox™."
"Ever since we formed SoundWorks, Inc. last year and purchased the Cambridge SoundWorks business from Creative Labs, we have focused on expanding our speaker business into the mass market of consumer electronics by delivering a leap forward in ultra-portable Bluetooth wireless speaker performance at a truly amazing price", continued McHugh.
"I was with Creative Labs for over fifteen years, serving as President and COO. While I was there we grew from under 200 million in annual revenue to over 1.3 billion and during my tenure we sold over 350 million Sound Blasters, tens of millions of speakers and over 70 million ZEN MP3 players. Yet, never have I been as excited about a product introduction as I am with the OontZ and now the OontZ Angle! The OontZ Angle is amazing to me, as it has excellent sound quality, surprisingly loud volume, it is super easy to use and connect, it looks sleek and it is feather-weight at only 9 ounces, yet it is only $69.99. I believe we beat the competition in sound quality, output and blow them away in price. We have demonstrated the OontZ Angle to many owners of the competitions substantially higher priced offering and their feedback has been unanimous that we sound better and play louder. They questioned if it makes sense for us to sell the OontZ and OontZ Angle so cheap, when they had been willing to pay so much more for the competitor's product. I share with them three reasons: one, we sell direct so there is no retailer margin to inflate the price; two, we designed them with the highest quality components, yet with our partners we are purchasing in such huge volume we can drive down cost; and three, we want to disrupt the market by providing an amazing sounding ultra-portable Bluetooth speaker at way less than half the price of the leading competition. OontZ OontZ OontZ."
For all the details and specifications please check us out at: TheOontZ.com or CambridgeSoundWorks.com
# # #
OontZ, OontZ Angle, Cambridge SoundWorks are trademarks of SoundWorks, Inc. Jambox™ is a registered trademark of Jawbone (AliphCom dba Jawbone).