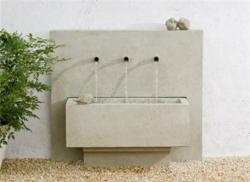 Sleek Modern Design, Amazing Sounds- X3 Garden Fountains is the clear winner. Chad E. Harris
Metairie, LA (PRWEB) August 25, 2012
The X3 Wall Fountain by Campania International is a captivating piece for an outdoor area that will bring the tranquil look and sound of water in a modern fountain setting.
The X3 fountain is a sleek wall fountain that is more a work of art than just a garden fountain. It is made of cast stone, a highly durable material that will age naturally and beautifully. This fountain is 32 inches long and 36 inches high, making it a substantially sized fountain to go in any outdoor setting. Made by Campania International, the X3 fountain will make a modern statement.
Campania International is a leader in cast stone outdoor decor, and their garden and wall fountains are no exception. Choose from a variety of shapes, sizes and styles in addition to finishes and stains when exploring their cast stone fountains and outdoor accessories. From garden benches and planters to statuary for all tastes, Campania International is the best around, and The Garden Gates is proud to be a premier retailer for the brand.
TheGardenGates.com also carries a wide range of products from Campania International. Shop the online lifestyle boutique for beautiful cast stone garden planters, outdoor decor and other garden accents including patio furniture, statuary and more.
About The Garden Gates
Founded by Jacqueline Elizabeth Kendall-Harris and Chad Harris in 1999. Jacqueline plays an instrumental role in product development, interior design and the developing the core principles of The Garden Gates lifestyle. Chad plays an instrumental role in the creativity of the brand, marketing and technology of the business.