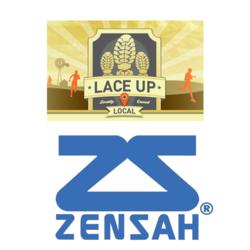 If we can encourage our customers to shop at their neighborhood stores, we are taking a step in the right direction
Miami, FL (PRWEB) August 23, 2012
On Tuesday, August 21st, Zensah® announced its support of Lace Up Local. Zensah® is the leading designer of athletic compression apparel with the top selling compression leg sleeves on the market. Lace Up Local is a campaign by the IRRA that encourages consumers to shop at specialty running stores. Zensah® stands behind this initiative to benefit local running communities.
The IRRA's latest campaign, Lace Up Local, advocates the importance of consumers supporting small businesses in their communities by shopping at locally owned stores. The Lace Up Local website highlights running retailers and the benefits of shopping for running shoes and apparel in and around your areas. Some key benefits of shopping at neighborhood stores include growing the economy and working with people who are committed to providing the best customer service.
"This campaign helps put runners in touch with specialty retailers that are the heart of the running community and encourage the sport unconditionally," say Parker Karnan, Executive Director of the IRRA. "It is great to have Zensah on board for this program to promote the interests of independent specialty running retailers."
Locally owned stores are the base of our economy. These are the places were communities can work together and blossom. These stores are dedicated to ensuring that runners have the right tools, connections, and resources to achieve their exercise goals. Every dollar spent at these businesses can have a tremendous effect on the market.
Zensah® strongly believes in the importance of endorsing specialty running stores and their communities. Suzanne Kerpel, Director of Marketing at Zensah®, says "Lace Up Local is a powerful campaign. It gives attention to specialty running businesses, the heart of the running community. Store owners are passionate about their businesses and do everything to help their customers and community. If we can encourage our customers to shop at their neighborhood stores, we are taking a step in the right direction."
Zensah encourages runners to support specialty running stores and invest in locally owned business.
About Zensah: Zensah® is a Miami-based company, specializing in sports compression apparel. Their seamless compression products are praised by athletes and fitness enthusiasts, including runners, cyclists, and triathletes. Zensah® offers compression products for performance and recovery, including their number one selling Compression Leg Sleeves.
About IRRA: The Independent Running Retailers Association (IRRA) was formed to promote the interests of independent specialty running retailers. The IRRA's mission: to provide a forum to achieve excellence through education, communication, research, advocacy and member discount programs as well as to provide a support network to help your business grow. You can learn more about the Lace Up Local here: http://www.laceuplocal.com/
Suzanne Kerpel
marketing(at)zensah(dot)com
ZENSAH COMPRESSION APPAREL
(305) 935-4619