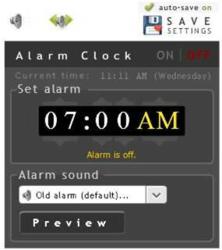 SoundSleepTM, much like our apps for iPhone and Blackberry, is free and is a great addition to our offerings.
(PRWEB) August 24, 2012
Dreams Cloud, a subsidiary of DBI, has released its latest feature, SoundSleepTM, for browsers. SoundSleepTM provides a collection of background sounds to enhance the sleep experience. In addition, SoundSleep TM features a clock and an alarm. The collection of sounds currently includes Rain, Oceanfront, and White Noise.
Dreams Cloud and its apps on iPhone, iPad, and Blackberry provide comprehensive offerings emphasizing the importance of dreams. Dreams Cloud's apps provide seamless integration among a browser, an iPhone, and a BlackBerry.
Dreams Cloud's website also provides a comprehensive dream Resource Center, which includes books, people, videos, and links to other websites serving the dream world as well as an educational blog series. Dreams Cloud's app may be used independently or as part of Dreams Cloud's total solution.
"Enhancing our members' lives is a critical part of our mission and any tools that may help them is a welcome feature. SoundSleepTM may help our members sleep better and is yet another simple step to getting us closer to our goals." said Matt N Tabrizi, CEO and Co-Founder of Dreams Book. "Our availability in over ten languages as well as the depth of our offerings set us apart as a global contributor to the cause."
SoundSleepTM is a free service and is available to everyone. Dreams Cloud membership, Dreams Cloud's apps on iPhone and BlackBerry are also free and available to everyone.
About Dreams Cloud
Dreams Cloud (http://www.dreamscloud.com), a subsidiary of Dreams Book Inc. (DBI), is a global resource which specializes in gathering, saving, and tabulating a statistical compilation of dreams. The website provides its members with tools to log their dreams, create various dream journals, save them privately or share them publicly or anonymously, and receive reflections on their dreams. The goal of Dreams Cloud is to better its members' lives and those of the public through its efforts.
About DBI
Dreams Book Inc. (DBI), a Herndon, VA, based company, is the creator and manager of various internet-based projects. DBI employs fractional management and in-house expertise and development as well as a multi-national outsourced team to create value for its stakeholders through synergetic and strategic project management. DBI specializes in projects that provide social benefits and have mass appeal.
iPhone and BlackBerry are registered trademarks of Apple and RIM respectively.