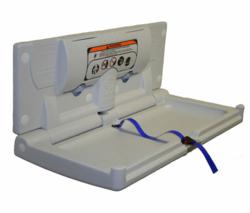 Exclusive Range Of Baby Changing Tables
(PRWEB UK) 23 August 2012
If you are looking for Baby Changing Tables then the new range of this product from Prestige Washrooms will surely be the most appropriate ones. The reason is nothing but the fact that their new arrivals are more advanced in designed, and they have been completed to make sure that the issues, which the parents face, or the babies may face, are all taken care of. The compact designs provide the baby with ample place to stay comfortable when the parents have enough space to keep the changing items and caring products. One thing which is best about these changing tables is tat they don't take much room.
The Baby changing Station, released by Prestige Washrooms, are different from others because they put a lot of thought behind the comfort of the baby. The executive director of the Prestige Washrooms has stated "our new products will bring a certain level of support for the baby and that is completely new. We have made sure that our products don't take a lot of space, but the design also must provide the users with a lot of empty space to keep the baby and other necessary things." This statement clearly shows how much confidence they have in their new product range.
The Dolphin baby changer includes easy reading step by step fitting and user instructions plus all mounting hardware & "FREE" Aluminium baby changing facilities door sign. Exceeds British Standards: BS EN 2221.2008!
Prestige Washrooms is a trusted name and are leading in the field of washroom accessories. They have been coming up with new items for last few years, and most of them have been the result of new ideas to advance and develop existing products.
This is one thing that made them the prime trust for parents when they announced the upcoming baby changing items. They have built the trust with quality, and that creates the hope that the new products from Prestige Washrooms will be equally efficient. One thing is sure that changing the baby diapers will never be the same again with these new changing tables offering a new level of comfort and compactness.
The products are always best rated by the customers, and for these changing tables too, parents can say the last word. A middle aged mother of two said it loud with a clear sense of relief. She said "the changing unit I had for my first baby was kind of rough and my husband had to by a complete new set, but the new one from Prestige Washrooms for my new baby is really wonderful. The Baby Changing Units I have now are very comforting."
For more information , visit http://www.prestigewashrooms.co.uk/Baby-Changing-Tables/