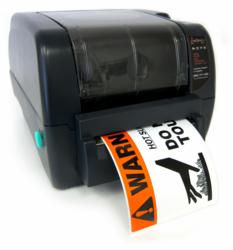 "The LabelTac 4 Pro is considerably easy to use and prints out labels in a matter of seconds. I don't know how we lived without it."
Lake Oswego, OR (PRWEB) August 27, 2012
Safety signs are seen everywhere you look today and Creative Safety Supply has a wide variety of pre-made traffic and caution signs that can meet specific needs. They will also produce customized signs at no extra cost with free setup. The signs are preferred over other brands as they are printed on industrial –grade materials that resist heavy and frequent pedestrian and forklift traffic. A safety sign is what every workplace needs to communicate safety instructions and directional information to reduce potential safety hazards. The safety sign also is a great way to keep productivity up as it creates a lean and visual workplace.
The LabelTac 4 Pro labeling system is a sign maker that is rated #1 in the industry for 5s, lean, arc flash and more. The high quality sign maker will produce heavy duty labels in-house at a fraction of the cost compared to other brands that are pre-printed or outsourced. No more waiting for the product to arrive in the mail and no more shipping costs. A rental program is offered through Creative Safety Supply for those one job projects. The rental program is worry-free of long term maintenance. The good news is the rental fees can be applied towards the purchase of the printer.
Safety signs are the common theme in any well managed safety compliance workplace. The LabelTac 4 Pro labeling system is easy to use and comes with templates and symbols that will allow for a quick and easy start up. The labeling system connects with almost any Windows-based programs such as Microsoft Office, OpenOffice and Excel. If no word-processing program is available, the printer ships with the popular and easy to use Bartender label creation software at no extra cost. After receiving the LabelTac 4 Pro, Sue Martin commented, "The LabelTac 4 Pro is considerably easy to use and prints out labels in a matter of seconds. I don't know how we lived without it."
Please contact one of our knowledgeable support representatives at toll free (866)777-1360, or visit Creative Safety Supply at http://www.creativesafetysupply.com for more information about safety signs and makers.